The Real Story Behind the New York Stock Exchange "Glitch"
Hours after many mainland Chinese stocks were halted because their markets were plummeting, we experienced a "flash-halt" of our own when the New York Stock Exchange broke down late Wednesday morning.
Maybe "broke down" isn't the best term for what happened– and just keep that in mind as you read on.
But guess what? There's a way you can profit from yesterday's chaos on the New York Stock Exchange, as you'll soon see.
First, let's get to the details from yesterday…
"As if investors didn't have enough to worry about, the New York Stock Exchange halted trading in all securities at midday Wednesday in what appears to be technical problems with the trading system," The Street reports. "The halt began at 11:32 a.m. EDT. Reports said the NYSE was working on a major technical issue. The NYSE said all open orders will be canceled."
Well that's a bummer.
News broke shortly after lunch that the President had been briefed on the NYSE trading halt. The official statement on the halt was that it was a technical issue that we're working to resolve as quickly as possible.
That's when the Wall Street Journal's website went dark. Yeah, and I should probably mention that United Airlines grounded flights earlier in the morning due to a computer "malfunction."
Naturally the official word was that a cyberattack wasn't to blame for these incidents, and that none of them were connected. No one dared utter a peep about the dreaded "H" word – hackers – or a potential large-scale cyber attack.
Is it all a coincidence? Could be. But I find it very interesting that all of these so-called computer glitches are popping up at almost the exact same time…
And if you want to know what most people really think happened, just follow the money. While most stocks absorbed severe beatings yesterday, one small niche related to these strange computer-glitches stuck out.
I'm talking about those pesky cybersecurity stocks.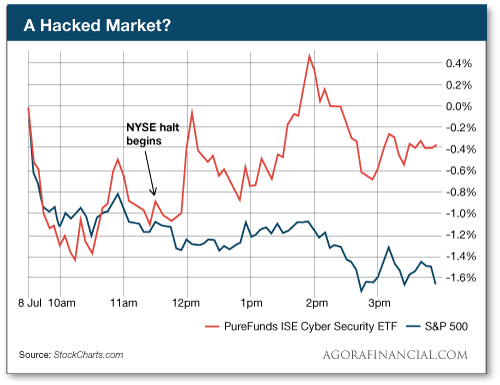 Official cyber attack or not, smart investors know the perils of the digital world—and the increasing brazen attacks on our digital infrastructure.
Last month I told you how hackers got the personal information of up to a million former federal employees. And some investors still haven't figured out that cybersecurity is quickly becoming one of the most profitable trades we'll see this decade.
Here's what I wrote last month: "Listen, your data isn't just limited to your hard drive. It's floating around everywhere–through distant servers and the cloud. So it's not a question of if your data is stolen… but when. And private corporations and the government are quickly realizing that current security measures simply aren't cutting the mustard."
Any way you slice it, these breaches and glitches are really piling up. Goldman Sachs counts 17 high-profile cybersecurity breaches over the past 12 months alone. No wonder the PureFunds ISE Cyber Security ETF is up nearly 15% year-to-date while the major averages are in the red…
Regards,
Greg Guenthner

for The Daily Reckoning
P.S. Take a hack at cybersecurity stocks.  If you want to cash in on the biggest profits this market has to offer, sign up for my Rude Awakening e-letter, for FREE, right here. Stop missing out. Click here now to sign up for FREE