$100 is the Next Stop for this Powerful Internet Company
Today we're grabbing a stock sprinting for $100. And that's just the beginning…
So all I have for you is one simple question:
Are you strapped in for the ride?
Because this company's poised to become one of the most powerful tech firms the world has ever seen. This ubiquitous company has no peers. And it could mint countless new millionaires over the next decade.
Want to be one of them? Read on…
I mean, we're talking about a company with hundreds of millions of users, breakneck mobile growth, and worldwide brand recognition here. Make no mistake: this company is a juggernaut.
And the thing is, it's exploding internationally…
See, this company has done one helluva job penetrating emerging markets where most folks don't actually have ready-access to the internet—but use mobile phones instead. According to Quartz, this company offers an exclusive data plan in India for $2.50 a year (that's not a typo). It also offers plans in the Philippines for just a fraction of a standard data plan.
Folks in these developing countries can only afford to access this company's wesite, not the entire web.
So what does this mean?
It means that many people who lack a home internet connection in these developing nations actually think this company is the internet. It's the only site they use!
Imagine you control the only window to the web for hundreds of millions of people in developing countries. That's power.
Are these users worth as much as a U.S. user? Not even close. But that huge revenue gap won't last forever. And the sheer numbers of people we're talking about here are staggering. This company has a stranglehold on this entire market.
What powerhouse company am I talking about here?
I'm talking about Facebook. Yes, that Facebook.
Take a look: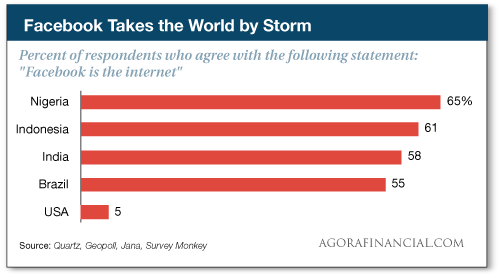 I don't know what's crazier – the fact that 65% of Nigerians think Facebook is the internet – or that there are 5% of Americans who actually think so too. Talk about being in need of an intervention. Jeez…
Sure, plenty of folks just plain hate Facebook. And I can't say I'm its biggest fan (I don't even have an account). But I've found that most young people under 30 accept Facebook as an inevitable part of life.
Like unloading the dishwasher or taking out the trash, maintaining an account and wishing your long-lost friend happy birthday with a quick wall post is a social requirement.
And Facebook is in this for the long-haul. They're creating a massive, international web-advertising monopoly that we can't even begin to understand because we live in a land where every outhouse, henhouse, and doghouse has to have a Wi-Fi connection.
And what about the stock? Facebook shares just cracked $90 for the first time this week. Next stop: triple-digits.
Facebook stock is up about 15% so far in 2015—and this move is just getting started. I think excited investors and traders will quickly bid this stock into the $100-range over the next several weeks if market conditions remain favorable.
Remember: Facebook is the internet. And unlike many social media ventures, this is a smart company that has perfectly monetized its platform. I'm not getting into the long-term here, but it could be ridiculously huge. So strap in…
It's gonna be one hell of a ride.
Regards,
Greg Guenthner

for The Daily Reckoning
P.S. The sky's the limit here for this social media juggernaut. If you want to cash in on the biggest profits this market has to offer, sign up for my Rude Awakening e-letter, for FREE, right here. Stop missing out. Click here now to sign up for FREE.