A Famous King Is Dying – Here's How to Profit from His Demise…
If you're a tree-hugging, granola-munching greenie with a carbon footprint the size of a walnut, I've got great news for you…
King Coal's reign of terror is finally over! The black, sooty stuff is finally going the way of the dodo bird.
And even better, you're about to see how you can snap up some quick double-digit gains as you get ready to dance on King Coal's grave…
There's no fighting it any longer. Thanks to waves of new regulations and a push for cleaner energy sources, coal's had it.
It's not even the top source of electrical power in the United States anymore…
"For the first time ever, natural gas trumped coal as the top source of electric power generation in the U.S. In April, roughly 31 percent of electric power generation came from natural gas, whereas coal accounted for 30 percent, according to a recent SNL Energy report," CNBC explains. "It's a dramatic difference from April 2010, when coal accounted for 44 percent of the mix and natural gas just 22 percent.'
That's atrocious news for coal—a commodity we've tried time and again to play every time it's attempted to bounce over the past couple of years. With no luck…
Coal's just been one of the worst investments out there. One of the main reasons? Investors believe the government's been trying to kill it off in favor of greener alternative energy. And they're right…
Last year, Obama's Environmental Protection Agency announced power plants must reduce their emissions of carbon dioxide 30% by 2030. It was a declaration of war on coal — and the last straw for investors.
But just when it looked liked things couldn't get any worse for the stuff, prices started plunging once again. Coal plants were shuttered. And demand from China tanked. Here's the result of the carnage: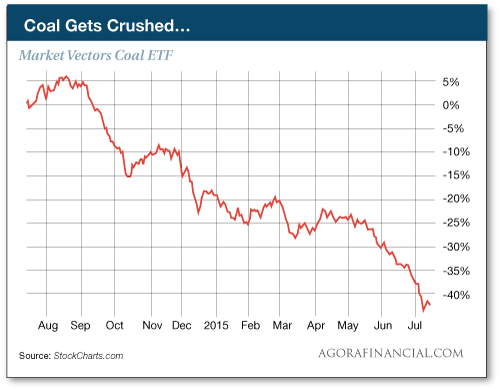 Brutal…
And it doesn't look like anyone can save King Coal. Heck, I thought coal would catch a break back in the fall after the Republicans nabbed the Senate. But no. Even though it generates a significant portion of this country's energy, coal's definitely become one ugly investment. I just can't see any opportunity to make a buck here…
On the other hand…there is some serious growth potential in other emerging energy sources…
Alternative energies like wind and solar are popping up all over the place. Wind is responsible for a little over 4% of our electricity generation — and solar about 0.25 percent.
But it won't stay that way for long…
Just look at all the movers and shakers in the solar industry right now. The cost of solar power generation and battery storage is falling faster than I can type. In fact, Tesla's chief technology officer just told Forbes that "battery costs will fall faster than expected, and the same for the demand for energy storage equipment that will be paired with solar panels. The combination will create a steady flow of electricity that is cheaper than energy from fossil fuel-based power plants."
Coal's history. If you miss it, go read a Dickens novel…
Regards,
Greg Guenthner

for The Daily Reckoning
P.S. Forget coal. Think solar. If you want to cash in on the biggest profits this market has to offer, sign up for my Rude Awakening e-letter, for FREE, right here. Stop missing out. Click here now to sign up for FREE.