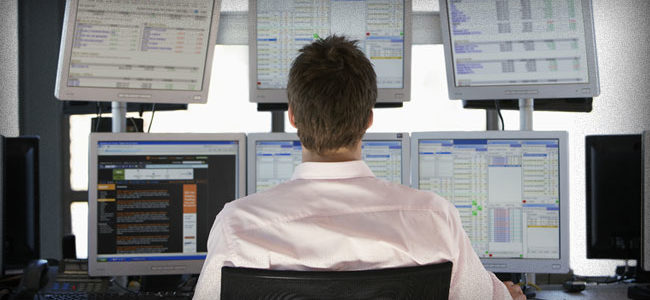 Want to Become a Trading Guru? You Need to "Go Zen"
Take a deep breath and relax. It's time to go Zen…
So put away your charts. Log off your brokerage account. Lock your smartphone. All glowing screens (except this one) need to go dark. It's time to turn off the noise—and quiet your mind.
Today I'm going to help you maximize your trading gains by showing you how to tune out the market's daily ups and downs. They only distract you from the bigger picture – and lead you into bad decisions you wouldn't otherwise make.
Technology is largely to blame. There's too much instant information available. The noise has gotten so loud it's drowned out the little voice of reason deep within your brain.
All that information pulls you this way and that, making you more of a hamster in a maze than a trader. You might enter the market "maze" with a plan. But if you forget it in the middle of the daily noise, you'll end up lost in that maze.
Here's the bottom line:
You're not helping your trading if you allow market fluctuations to steer you in a different direction every five minutes. That's why you need to go Zen. Stay focused. Don't get too up… don't get too down.
With that in mind, let's talk about the market action we've seen recently…
Stocks are finding higher ground. Yet they haven't taken a straight path. The S&P 500 is up a little more than 3% this year—yet all of these gains have come over the past week and a half.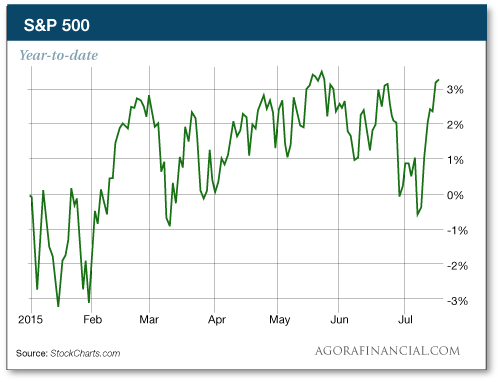 Think about that for just a minute…
Barely seven trading days ago, everyone was talking about how stocks were primed for a huge fall after smashing below key support levels. Seems crazy, right? Only if you were too close to the screen to see the big picture.
As I've been saying, the market's longer-term trends remain intact. Stocks are a whisker off their highs. And that's the only piece of information you should concern yourself with right now. Everything else is just noise. Focus on that noise and you'll lose the perspective you need to make informed trading decisions.
Look, I know how difficult it can be to ignore every tick of the market, especially as it approaches important support levels. I'll sometimes catch myself zoning in on a 5-minute real-time chart of the S&P. And I'm supposed to know better.
Unless you're a daytrader you're not trying to pull nickels out of the market every 3 minutes. And one day does not a trend make. So if you feel like opening an artery on down days, or partying like it's 1999 on good days, you gotta get out of your own way. Go outside. Pick up a book. Fantasize about that hottie you saw at the gym the other day…
Or even better, pick up a weekly chart. Zoom out…
When you widen your view of the market, you gain a big-picture perspective. It cuts out a lot of the noise, and longer-term trends become clearer.
Take a look: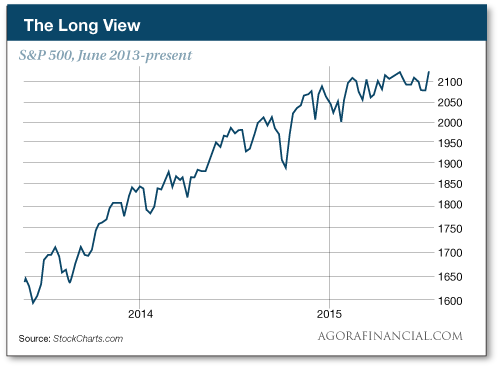 See? This longer-term view of the S&P will smooth out those recent whipsaws. Now you've got a much clearer view of where the market's traveled over the past two years. That's the big picture view you need to make sound trades.
Think how much easier it would be to trade with this mindset, instead of living and dying with the market's every move. Now, I'm not saying you should ignore market action entirely. And you shouldn't ignore daily and hourly charts if you're looking to fine-tune a buy or sell. But when it comes to making the best strategic decisions, zooming in on market noise will kill you. You need to trade with a clear mind.
So go Zen.
Regards,
Greg Guenthner
for The Daily Reckoning
P.S. Go Zen, my friend. If you want to cash in on the biggest profits this market has to offer, sign up for my Rude Awakening e-letter, for FREE, right here. Stop missing out. Click here now to sign up for FREE.