Mr. Market's Taking Aim at You. Here's How You'll Avoid the Punch…
Wham…Bam!
The Dow Jones Industrial Average knocked out two aging veterans with a vicious one-two combo in the first round of trading yesterday…
First a jaw-crushing uppercut to United Technologies. Then a hellish right to IBM that knocked it into next week.
Two more names to add to our loser list…
United Tech started losing its fighting trim in February. But yesterday's uppercut out of the blue walloped the defense contractor with its biggest decline since the September 2001 terror attacks, according to MarketWatch numbers. We can now add UTX to the list of Dow contenders down at least 10% this year…
Then there's that savage right to IBM's kisser:
"Big Blue repeated its months-long rhetoric about a cloud turnaround as it announced a small miss on revenues," Forbes reported.
But that small revenue miss was the jab that set up the big knockout punch. By midday, IBM was on the mat—down nearly 6%. The stock had to be carried out of the ring…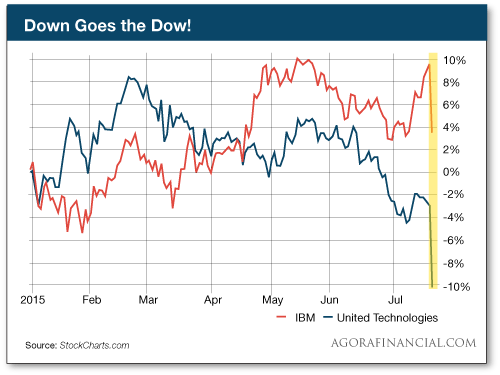 Sure, IBM is still positive on the year– even though the progress it had made since late April got erased yesterday. Which brings us right back to our big theme this summer: winners and losers.
Here's what I wrote earlier this month: "Exactly half of the Dow (15 stocks) is positive on the year, while the other half of 'em are down. So if you bought the Dow this year— supposedly the 30 biggest movers and shakers on the Street— you'd be sitting on a 1% loss. At this rate you can retire in about…never."
And so the loser list grows thanks to earnings season. Earnings can kill trends. It's as simple as that. One minute you're riding high. The next, a crappy number or two sends your stock plummeting.
"So far, 60 of the companies in the big S&P 500 index have reported their results to investors. Of those, 70% have beaten analyst estimates for the quarter. That sounds like a pretty big beat-rate, right?" our friend and fellow technician Jonas Elmerraji asks.
"Thing is, it's actually pretty anemic compared to recent quarters. Analysts have been consistently under-guessing corporate earnings here. And yet stocks are seeing buying pressure this time."
Jonas is quick to note that we've experienced a technical move in the markets recently—but not a fundamental one.
Regards,
Greg Guenthner

for The Daily Reckoning
P.S. Don't get caught flat-footed. If you want to cash in on the biggest profits this market has to offer, sign up for my Rude Awakening e-letter, for FREE, right here. Stop missing out. Click here now to sign up for FREE.