Is the Tech Boom Finished? This Stock Holds the Answer…
Did somebody just stick a pin in the Nasdaq?
That's the big question on every trader's mind after yesterday's session. The Nasdaq Composite, which has been floating along on cloud nine this year, slipped well below the other major averages Wednesday.
The culprit? Just the largest tech company in the world, that's all…
Apple puked up some weak earnings Tuesday night—and that kicked the stock into free-fall on Wednesday. In fact, Apple, Microsoft, and Yahoo! all took hits on less-than-stellar earnings reports. Not a good sign.
So are the red-hot tech stocks about to join the ranks of mediocre names that have chopped investors to bits so far this year? Well, you're about to discover the one stock that holds the answers in just a minute. But first, let's figure out what's going on with Apple…
"Apple, the world's most valuable company, slid 4.9 percent, wiping almost $40 billion from its value," Bloomberg declared last night.
Hey, $40 billion ain't what it used to be – but it's still a lot of dough. In fact, Yahoo! isn't even worth that much…
So, does Apple's tumble mean big tech's getting ready for an even bigger swoon? One group of stocks says that's a distinct possibility…
I'm talking about semiconductors.
These are the little doohickeys that make your phone and computer and pretty much everything else work. And they're not exactly looking bullish these days…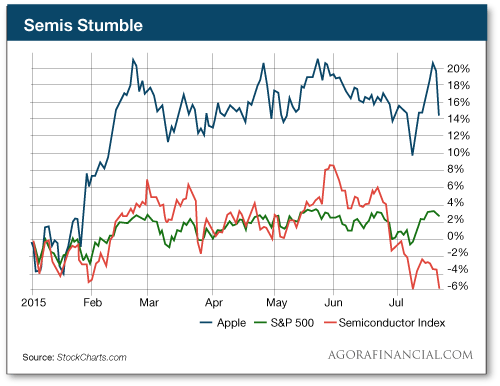 Check out how semiconductors have lagged the broad market over the past several weeks. These stocks are just getting the spit kicked out of them right now.
Now, you might recall I told you about how semiconductors are replacing copper as the world's most important economic barometer. The idea is semiconductors – not copper – are now driving the economy's health, at least in part. My friend and technician Andrew Thrasher was the one who first proposed this relationship last year. And now, he sees semi's recent stumble as an intriguing warning sign…
"While I don't expect Semi's to go in lock-step with the overall equity market, the current lack of confirmation is quite discouraging," he says.
Quite discouraging indeed. So again, is this the end of the tech bull?
Well…
Have you seen Google recently?
While Apple is hemorrhaging, Google looks like it just took a hit of crack. We might be seeing not the end of the tech bull – but just a changing of the guard.
Google stock has underwhelmed since 2013. But after reporting better-than-expected earnings late last week the king of search has rocketed higher. I don't care how much Google has spiked – its quick move toward $700 is just the beginning. Moves like this aren't accidents.
With quite a few big tech stocks slipping and semiconductors flashing warning signs, you'll want to stick to strong names like Google. This stock is clearly in control right now…
Regards,
Greg Guenthner

for The Daily Reckoning
P.S. Is that the sound of a bubble popping? If you want to cash in on the biggest profits this market has to offer, sign up for my Rude Awakening e-letter, for FREE, right here. Stop missing out. Click here now to sign up for FREE.