Get Rich Quick– Spend All Your Money!
Think you're a patriotic American?
Then you'd better be spending money. All of it. No excuses. Otherwise I'm going to start calling you Benedict Arnold.
Here's how your average day should look: First, grab a $6 triple-mocha-frapo-whatever at Starbucks. Then, head over to the mall and buy some new workout gear—Nike or Under Armour (you don't want to look like a scrub at the gym).
Don't forget to buy some Frozen toys for the kids at the Disney Store while you're at the mall. And on the way home, stop by a Tesla showroom if you have one nearby and consider ordering a brand new Model S complete with Ludicrous Mode.
And you should probably stop by your broker to load up on some of these ridiculously hot consumer stocks I just mentioned. Because while most stocks on the market are coming under pressure this summer, all of your favorite brands are rocketing higher. Much higher.
And today you'll see why all your fancy spending could mint you a ton of dough…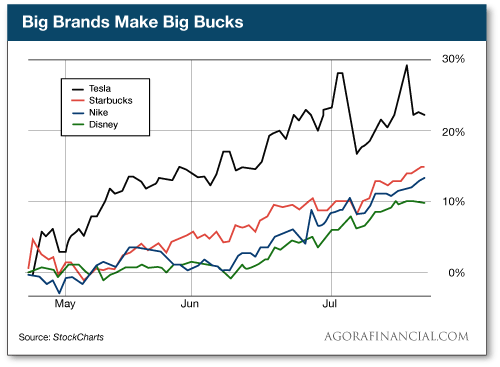 As I've been preaching to you for the past six months, not all sectors or stocks are equal this year. Small pockets of the market have been doing the heavy lifting for the slackers. And while our "loser list" continues to grow, the strongest of the strong just keep pumping iron.
How do we deal with a market where the list of winners continues to narrow?
We stick with the outperformers.
Consider this: of all the "brand name" stocks I just listed, Disney is the worst of the lot—and it's posted 3-month gains near 10%. That incredible 3-month return is the bottom of the barrel. That's insane!
What has the S&P returned over this same timeframe, you ask? How about -0.3%. The large-cap index is in the red while shares of these popular consumer names fly off the shelf.
At the beginning of this month, I tuned you onto this group of stocks with a silly little name: consumer cyclicals. At the time, this sector was up nearly 7% on the year (it's now up 10%). And it's made up of companies you spend your disposable income on – Comcast, Home Depot and Nike are all major components.
And of course, there's an ETF that lets you buy into a big basket of these stocks all at once. It's the Consumer Discretionary Select Sector SPDR (NYSE:XLY). It's a hot trade that's already making you money. This ETF easily survived the whole Greece mess from a few weeks ago. And now it's flirting with new highs once again.
The big move in cyclicals shouldn't come as a shock to you—especially since this basket of stocks had been coiling since March.
So keep spending that cash! And while you're at it, buy some of these stocks if you want your money to grow. It's your patriotic duty!
Regards,
Greg Guenthner

for The Daily Reckoning
P.S. Is that the sound of a bubble popping? If you want to cash in on the biggest profits this market has to offer, sign up for my Rude Awakening e-letter, for FREE, right here. Stop missing out. Click here now to sign up for FREE.