It's Time to "Cut the Cord" for a 20% Gain
It's time to ditch those Mickey Mouse ears, kid…
Disney stock just had its worst day ever, dropping a calamitous 9% on the day. But that only tells half the story. The real story is why Disney got mauled yesterday. It's not because people stopped going to Disney World. No, no, nothing like that. It's something else.
And that something is handing us a trade today that could bag us a fat 20% gain within a month, if history is any guide…
Like I said, high-flyer Walt Disney Co. (NYSE:DIS) posted its biggest one-day price drop ever yesterday after announcing earnings. Down more than 9%. And the thing is, this is a Dow stock that was up 30% on the year earlier this week. So we're not talking about some fly-by-night biotech startup.
You know how I've been harping on the tale of two markets theme lately. Only half the Dow is in positive territory while the rest is doing jack. That makes Disney's plummet is a huge hit for one of the key stocks propping up ol' Papa Dow.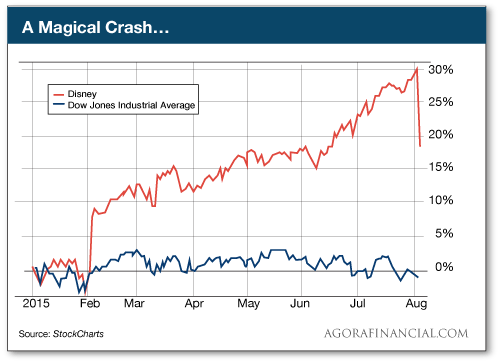 The strangest part of all this? Disney's earnings were actually solid. So why did it get massacred yesterday? And what does it have to do with today's trade?
Here's the answer:
It's all about Disney's cable business. Management blames "cord cutters" for its woes. People are getting rid of cable. And ESPN is a big part of the problem. The sports network is subsidiary of Disney, and ESPN'S subscriptions are tanking.
Can't say I blame them. I can understand ESPN 1 and 2. But ESPN 108? But they make you pay for the damn thing like you actually want it.
So have we finally reached the tipping point where traditional cable television is starting to feel the squeeze? Man, I hope so…
Thousands of worthless channels. Internet that's never as fast as advertised. And pricing schemes that force you to shell out more than $100 a month for the convenience of it all. You know the deal.
But if you've been following along, you know the big bad cable monopoly is slowly dying. And you've even had the chance to cash in on some of the companies that are digging its grave…
Cable alternatives are beginning to assert themselves. The television offerings on Hulu, Amazon Prime, and Netflix (NASDAQ:NFLX) can keep even the most demanding couch potato stocked with non-stop entertainment every single day.
So ditch your cable – and don't forget to chuck the mouse ears along with it.
Regrads,
Greg Guenthner
for The Daily Reckoning
P.S. If you want to cash in on the biggest profits this market has to offer, sign up for my Rude Awakening e-letter, for FREE, right here. Stop missing out. Click here now to sign up for FREE.