How to Make an Easy 30 Million Bucks…
Want to make an easy 30 million bucks?
Then listen up. Have I got a business proposal for you…
It's simple. All you have to do is hack into the systems of some prominent PR firms and get an inside peek at upcoming earnings press releases for some of the biggest publically traded companies in the world. Then, make some quick trades before the information goes public. That's is! Just sit back and collect millions as share prices jump.
Voila, you're a multi-millionaire!
You in?
That's exactly what a group of Ukrainian hackers have been doing for the past five years. And according to the authorities who busted this crew, they netted a cool $30 million from their dirty deeds.
This ain't your grandfather's insider trading scam. No sir. These days, it takes some sophisticated computer work to steal that kind of money. And sadly, it's happening all the time.
And today you're going to see how incidents like this are going to make cybersecurity stocks the play of the decade. You'll also learn about a shorter term play that could bag you some fast double-digit gains over the next few months…
Here's the truth: no information is as secure as it seems. That includes yours, buddy. That's the reality of the digital world in which we now live. And that means we'll continue to see brazen attacks on our digital infrastructure.
This insider trading scheme is just another wake-up call. If you're not taking this stuff seriously, what the heck are you waiting for?  This isn't an isolated incident. Just a couple months ago, hackers obtained the personal information of up to a million former federal employees. And Goldman Sachs counts 17 high-profile cybersecurity breaches over the past 12 months alone.
Look—your data isn't limited to just your hard drive. It's floating around everywhere. It's on the cloud. It's filtered through servers halfway across the country…
So it's not a question of if your data is stolen, but when.
But here's the kicker (and what could help you pocket some serious coin as the hacking threat grows): private corporations and the government are quickly realizing that current security measures aren't up to snuff.
So it's no surprise that cybersecurity stocks have been some of the best performers on the market so far the year. But they got a little too hot to handle earlier this summer, which was why we sold our Palo Alto Networks Inc. (NYSE: PANW) trade for a tidy 35% gain.
As you can see from the chart, the PureFunds ISE Cyber Security ETF peaked in late June—and has since fallen back to earth while the S&P 500 has remained essentially flat…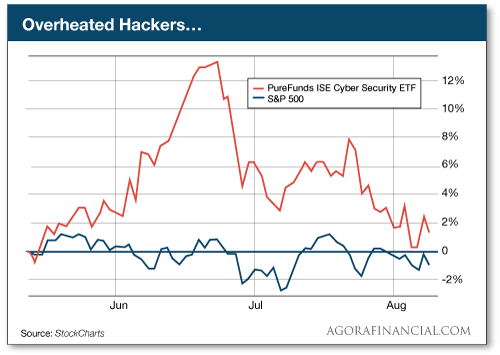 But now that these stocks have blown off some steam, it's time to play a potential bounce. As I said earlier, you've already rode these stocks for gains this year. And with our list of potential trades narrowing as the stock market sours, we need to tap into some jumping industries that can buck the trend…
Some investors still haven't figured out that cybersecurity is becoming one of the most profitable trades we'll see this decade. While everyone frets over the major averages, let's sneak into this trade and bank some coin.
Regards,
Greg Guenthner
for The Daily Reckoning
P.S. Wake up, this stuff is for real! If you want to cash in on the biggest profits this market has to offer, sign up for my Rude Awakening e-letter, right here. Stop missing out. Click here now to sign up for FREE.