Will Hawaii Lead the World to Cheaper Power?
Dear Reviewer,
While everyone praises Germany as the clean energy champion of the world because it now gets 30% of its power from wind and solar and other renewable sources and plans to raise that number to 80% by 2050, no one has noticed that Hawaii, which belches diesel exhaust from its power plants, has declared that it will derive all its electricity from renewable sources by 2045.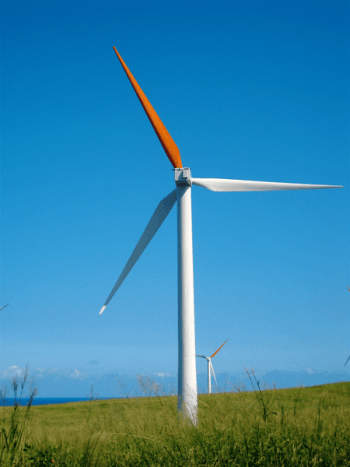 A windfarm near Hawi, on the big island of Hawaii, moves
the state ever closer to energy independence. 
That's right, Hawaii soon will become the only state in this nation to produce all its power without mucking up the environment and contributing to climate change. Take that, California (which has declared that a third of all its electricity must come from renewables by 2020).
The shift is quite a reversal, because Hawaii has long been the most costly place in the country to plug in your toaster. Hawaii has always had to import fuel to power its electric generators, at great cost. Last year, the state imported more than 45 million barrels of oil. That means for every Hawaiian citizen on the islands, $4,000 went out of state to oil producers.
The cost per kilowatt hour for residential electrical use in Hawaii would frighten most Americans — about 35 cents. If you live in the other 49 states, you're probably paying about 12.5 cents a kilowatt hour. A $130 electric bill in Atlanta, Georgia, for example, could be more than $300 a month in Hawaii. The cheapest electricity in the United States is in Washington state, with residential kilowatt hours at 8.6 cents.
Hawaii already has the highest use of rooftop solar among the 50 states, with one of every eight houses sporting panels.
Hawaii isn't the only place surrounded by water that is getting energy smart. Island nations around the world are organizing their efforts and sharing information. Kodiak Island in Alaska, for example, was recently importing 3 million gallons of diesel fuel a year to power its electric grid — that's about $7 million a year for 15,000 residents. Starting with the purchase of three wind turbines in 2009, Kodiak has managed a combination of hydroelectric generation, wind turbines and batteries to make itself 99.7% renewable energy efficient.
Perhaps the most interesting aspect of these conversions are the extraordinary cost savings that will accrue to residents as renewable forms of energy become far less expensive than traditional grid costs of power. Power produced from solar panels has dropped so far so fast that Deutsche Bank predicts solar will cost less than grid power in 80% of the world by the end of 2017. The bank also predicts solar panel costs will drop 40% over the next five years.
To your health and wealth,
Stephen Petranek
for The Daily Reckoning
Ed. Note: Get the top investment trends for 2015 in medicine and technology from the former head of the most popular science magazine in the world. Simply sign up for our Tomorrow in Review e-letter for FREE right here. Don't miss out. Click here now to sign up for FREE.