Here's Looking at You (and Your Roof)
If you ever wondered how so many different Earth-imaging companies like Skybox Imaging and Planet Labs and UrtheCast and PlanetiQ and Dauria Aerospace and Teledyne Brown Engineering and Tyvak Nano-Satellite Systems and NovaWurks and GeoOptics can possibly find enough revenue to be successful, you have only to look at one example of how valuable such information can be.
Just examine Google's latest service, which for now is free. It's based partly on Google's purchase of the Skybox satellite imaging system a year ago. Called Project Sunroof, it allows you to enter your home address into a software system, which then looks at the roof of your house. Within seconds, it can examine your roof and tell you exactly how much money you could save on your electric bill by putting up solar panels.
The usefulness of this cannot be underestimated. I know of friends who installed $40,000 units on their roofs only to discover that they face the wrong way, that the light they get in winter months wouldn't power a lightbulb and that their savings are nonexistent.
Project Sunroof analyzes exactly how many photons will fall on your roof during a year, taking into account which direction each gable on your roof faces, how much shade there is from buildings nearby and trees and the effects of weather, including overcast skies, rain, snow and dust.
Google has a long history of supporting the use of solar panels, including investments in solar companies, investments in solar power plants and a promise to use 100% renewable energy to power its operations. It already uses renewables like solar to power 35% of its operations. It has invested in the Balko Wind Farm in Oklahoma, the Red Hills solar plant in Utah, the Panhandle 2 Wind Farm and the Spinning Spur Wind Farm in Texas, not to mention dozens of solar installations around the world.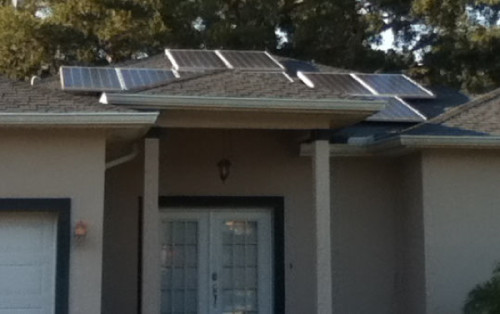 Credit: Reuben G Brewer
Will solar panels really save you money? There's a Google service for that. 
Project Sunroof is only a few weeks old and is only available in parts of California and Boston, but Google intends to extend it throughout the world. The tools available on the website are deep and extensive and can help answer almost any question a homeowner might have about the desirability of putting solar panels on a roof and even which installer might serve their needs best.
To your health and wealth,
Stephen Petranek
for The Daily Reckoning
Ed. Note: The future of technology is one of the most important and potentially lucrative bits of information you can know. Readers of Tomorrow in Review know that better than anyone. It's a free service dedicated to examining the most incredible technologies the world has to offer… and to giving its readers regular opportunities to profit from them. Sign up for FREE, right here, and start getting tomorrow's news today.