Can a Garbage Rally Lift the Markets?
The stock market's bouncing.
Yesterday the Dow Jones Industrial Average tacked on another 200 points to its Friday rally. The Nasdaq jumped more than 2%. Early this morning, futures are pointing higher. Even oil is sitting on some nice gains.
No more talk of market panic. The media's new focus is rapper Kanye West's debt—and his public plea to Facebook's Mark Zuckerberg for a cool $1 billion.
With this type of gossip creeping onto the front pages of the online financial rags, you can bet that much of the fear gripping the markets last week has dissipated. Stocks are up now. We can forget about the first six weeks of the year. Right?
That's called a leading question. But today you're going to learn if this relief rally is just a head fake… or the real deal…
The bulls are testing the waters right now. Buyers swooped in at the perfect moment Friday. And this momentum has carried into the new, truncated trading week. An oversold market is now reaching for higher ground.
JP Morgan notes that the American Association of Individual Investors bull-bear index has dropped to its lowest levels since April 2013. Hitting extreme bear readings like this can lead to a powerful rally like the one we're experiencing right now…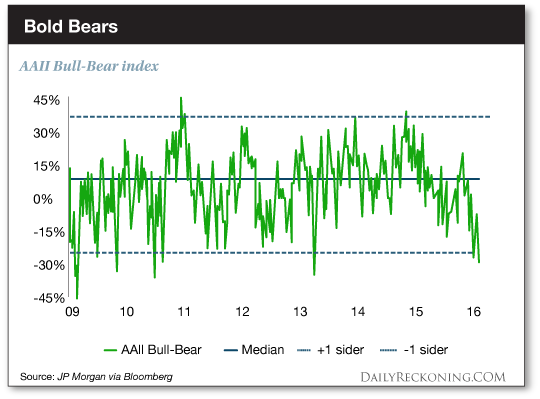 But as I told you yesterday, if this move is to become something more than an oversold rally, we need to see prices repair more damage. So today I want to take a look under the hood of this thing to see if we can find any clues that would help us determine if we're experiencing a rally we can bet on… or just some temporary relief.
First, we need to know what stocks are moving up with the market—and which ones aren't. A quick check of the S&P 500 is telling. While most stocks were in the green Tuesday, the big winners (and losers) stuck out like sore thumbs.
Facebook—leader of the FANGs—finished the day in the red. Facebook is a long-term winner. Heck, it just jumped to new highs less than two weeks ago! But no one wanted this stock yesterday…
That's because everywhere you looked, garbage stocks were blasting off the launch pad. Don't believe me? Check out these examples:
Groupon, a notorious money-losing stock, soared 45% yesterday after Alibaba announced a 5% stake in the company. Quotient Technology jumped almost 17%. Spark Therapeutics, another dog that most investors wouldn't touch with a 45-foot pole, jumped more than 20%.
In fact, as I scoured the list of the market's biggest movers yesterday, one trait of almost every single one of these names became very clear. They're all stocks that have been kicked in the teeth recently. All the charts I saw—with the exception of yesterday's action—pointed down and too the right.
What we have on our hands is a garbage rally. Heavily shorted losers are getting their day in the sun. It makes sense. Short sellers have been pressing their luck in this market. That's really all we needed to see some short squeezes send some stocks up double-digits in a matter of hours.
So the bulls are testing their mettle. But we're going to need to see some true market leaders emerge in order see the rally gain more traction.
Sincerely,
Greg Guenthner
for The Daily Reckoning
P.S. Can you make money during this garbage rally? Sign up for my Rude Awakening e-letter, for FREE, right here. Stop missing out. Click here now to sign up for FREE.