Wall Street Doesn't Have a Clue. Here's the Only Advice You Need…
The S&P 500 has jumped nearly 5% over the last five trading days…
Still, investors remain beaten and broken. It's not just the little guys, either. The market's actually deep-frying the Wall Street pros right now.
Morgan Stanley strategists are publically admitting their own trades have been "horrendous" so far this year. In fact, Morgan's investment portfolio clocked its worst month in more than five years. Five years!
Why the shoddy performance? We're apparently living in a "Bizarro World" right now, according to a Morgan Stanley note to clients. Nothing makes sense anymore…
"Everything seems backwards," the note says. "Sell winners, buy losers, own staples in both up and down markets. Just do the opposite of what makes sense."
Translation: We're losing money and it's pissing us off…
Whatever. They're just trying to make sense out of a nonsensical market. I don't care what the major averages are doing. Attempting to reason with the stock market is like trying to wiggle out of quicksand. The more you struggle, the quicker you sink.
And just as the "smart money" is starting to back up the truck and bet big against stocks, a huge rally has materialized. Futures are pointing to a higher open yet again today. But NYSE short interest is back near its historical record highs of 2008…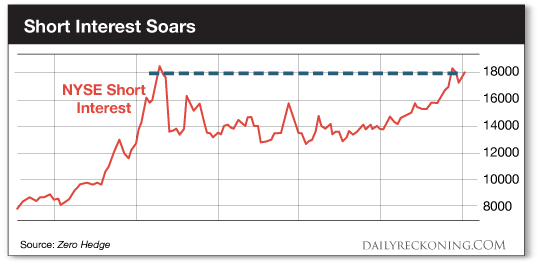 With the market rallying, we could be in for a massive short squeeze in the coming weeks. Once again, Wall Street doesn't have a clue. If they end up on the wrong side of the boat this time, a short covering rally could be the fuel the stock market needs to clear the air that has choked away the gains so far this year…
Squeezes aside, it's important to remember that we're stuck in a market environment that's been trouble since late 2014. Remember, the major averages have gone nowhere during this time. That's some serious chop…
With all the noise flooding the airwaves right now, let's slow down and take a closer look at how the S&P 500's corrective action has played out over the past 18 months. Let's break it down step-by-step…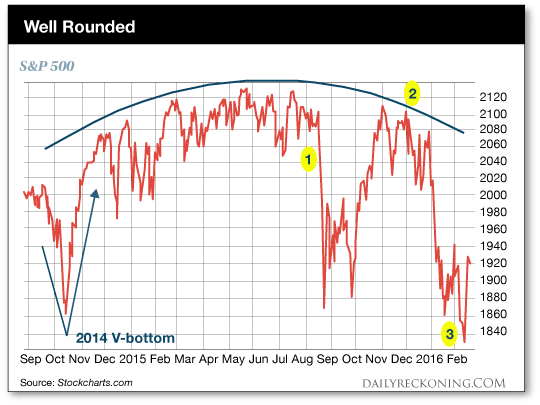 1. The drop – The major averages tanked in August, halting their fall near the 2014 lows. Investors bought another quick dip in December before cracking what would soon become an important support area.
2. The failure – The fall rally was a nice break from the downside action. But stocks began stalling out in November. That would mark the first time the market failed to make new highs after a major swing lower since 2011.
3. The retest – The new year was hemlock to stocks. We were forced to endure a historic January drop and February stumble. But stocks held their lines to post a 5% rally last week.
The market's sharp slide appears to be over (for now). The bulls desperately needed a bounce before the major averages plunged into the abyss—and they got it. While the current rally has been good news for anyone who owns stocks, there's no guarantee we're going to see the major averages beeline back to all-time highs. There's a ton of work left to be done to repair the damage.
Our S&P chart shows that the market has been in bear mode for more than six months. Heck, the major averages have now gone nowhere for nearly two years…
This market isn't tossing traders into a Bizarro World like the Morgan Stanley guys are telling you. There's no such thing. You'll never see an ideal market that sprays cash in your face like a fire hose. And if you do ever experience these so-called perfect market conditions, I can guarantee they won't last very long…
So instead of whining about falling stocks, you're better off following whatever "bizarre" trends emerge and taking whatever trading signals you can get—without worrying about whether or not they conform to your beliefs or the worthless opinions on the financial news.
Sincerely,
Greg Guenthner
for The Daily Reckoning
P.S. Make money in a falling market–sign up for my Rude Awakening e-letter, for FREE, right here. Stop missing out. Click here now to sign up for FREE.