Is the Trend Really Your Friend? Here's the Answer…
The sun's peeking through the clouds in the commodity space. In fact, some of the best trading opportunities we've seen in months are popping up in commodities right now.
Today, you could jump on one of these opportunities for a lightning fast hit-and-run raid on the commodities market. It should score us some nice fat gains while no one else is looking.
Of course, most folks aren't interested in a commodity market that's produced nothing but losses over the past several years…
Take Greenlight Capital's David Einhorn. He's even started bashing commodities.
You remember Dave. He's the billionaire fund manager we followed into our Macy's (NYSE:M) trade that's humming along so well.
It hasn't been easy for Einhorn. Greenlight lost more than 20% last year. Mainly because they were short Netflix and Amazon—the top two stocks in the S&P 500.
But as I said earlier this year, I wouldn't bet against Einhorn in the long run. And in 2016, it looks like he's firing on all cylinders. Heck, Macy's is up 20% on the year—and it's only February!
Back to his big call. Dave says the commodity supercycle is kaput. Finished. Over…
No kidding.
We already wrote the commodity market's eulogy a couple of years ago. But Einhorn's going grave-robbing, digging up the body years after it croaked just to prove that it is, indeed, diseased.
Gee, I wonder what gave him that idea…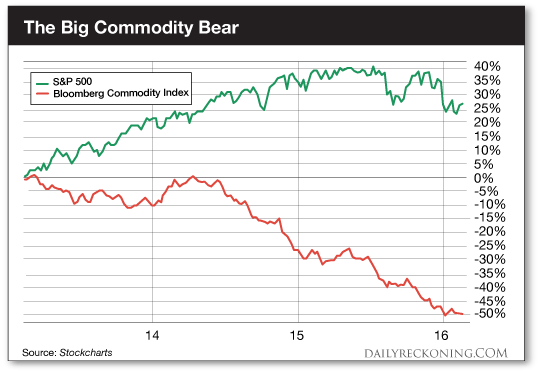 The Bloomberg Commodity Index tells the story here. For the past three years this sucker has gone nowhere but down. It's off by 50% since March 2013. Compare that to a 27% gain in the S&P 500 over the same period.
But don't worry— there's plenty of room for Einhorn onboard the commodity death cruise. His play is simple: short the heavy machinery stocks. Again, this is a trend that's been intact for some time. The global slowdown ain't exactly a big secret anymore…
But here's the thing Einhorn doesn't mention:
The commodity supercyle might be toast—but that doesn't mean we won't experience some wild bear market rallies. In fact, some of the best trading opportunities we've seen in months are popping up in commodities.
Despite all the horrible news these days, certain commodities are flashing strong "buy" signals right now. For example, everyone thinks commodities like iron ore are dead because of collapsing growth in China. I'm sure you do, too.
But after a painful decline in 2015 iron ore prices are actually rebounding. Bloomberg notes that just this week iron ore prices jumped above $50 for the first time in four months…
"Iron ore has now climbed more than 17% this year and 35% from its December low, as Chinese steel mills have started to replenish stocks," the Financial Times reports. "The rebound has wrongfooted many analysts and traders who expected iron ore to remain at or below $40 a tonne for the foreseeable future because of abundant supplies and slowing demand from China, the world's biggest steelmaker and consumer of iron ore."
Will higher prices last? I'm not so sure. But I do know we can strike while the iron ore is hot.
And remember gold?  The metal is actually moving up this year. The Market Vectors Gold Miner ETF (NYSE:GDX) is up a staggering 38% year-to-date. Yes, the gold miners are probably overextended at this point. But for a downright terrible year for stocks they've offered numerous trading opportunities.
And the precious metals aren't the only game in town. Those forgotten base metals are starting to catch a bid. This market is looking interesting…
Take Copper, for instance. Dr. Copper might have died and gone to metal heaven after peaking way back in 2011. But that's OK—we've wired him up for a Weekend at Bernie's. This corpse can dance!
Copper is now up nearly 10% from its January lows. If you've been following along with the saga of Freeport-McMoRan (NYSE:FCX), you already know that this stock has just about doubled from its late January lows. That's easily besting the major averages.
Bottom line: certain commodities are presenting some great short-term opportunities right now.
Commodities have found a patch of blue sky. I don't know how long it'll stay open, so let's bask in the sunshine while we can…
Sincerely,
Greg Guenthner
for The Daily Reckoning
P.S. Make money in a falling market–sign up for my Rude Awakening e-letter, for FREE, right here. Stop missing out. Click here now to sign up for FREE.