This "Worthless" Solar Stock is a Strong Buy
With the price of oil stuck in the low 30s, gasoline prices have dropped to lows last seen in 2008.
The cost to top off your tank just keeps getting cheaper. A gallon of regular unleaded will run you about 5 cents less than it did two weeks ago. On average, folks are now paying $1.77 per gallon at the pump.
Now that dirt-cheap gas prices are becoming the norm, the market's giving you the perfect chance to invest in alternative energy.
Huh?
Alternative energy stocks are worthless, right? After all, who'd want to own alternative energy stocks if traditional sources of energy are practically free?
Well, someone does.
The market's already buried most of the hot stocks from 2015. But as the major averages stumbled and oil continued to press lower, select solar stocks bucked the trend. After bottoming out late last year, a few of these names are ready to run.
Of course, not all solar stocks are soaring. Earlier this month, we showed you how Solar City found itself trapped in stock market hell after posting terrible earnings. Shares cratered 30% and have yet to post a meaningful recovery.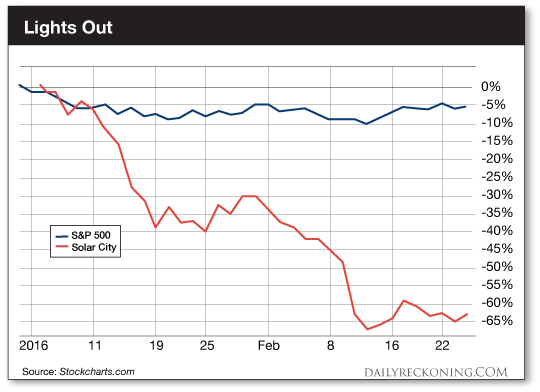 No, that 63% drop on the year is not a typo. This stock has taken a massive beating this year…
Solar City's tank-job aside, there is evidence that a solar stock comeback is in the works this year.
Why is solar catching a bid?
For starters, everyone was pounding the solar "sell" button last year. The Guggenheim Solar ETF fell more than 35% from April to December. And by the time the major averages started to crack in January, sellers had already stripped these solar stocks to the bone.
That's when something interesting happened: Solar names were actually rallying earlier this year when the market was tanking.
Uncle Sam has also been a big factor in the resurgence of some of the bigger solar names.
"For years, the solar industry has relied on a substantial federal subsidy called the Investment Tax Credit, which enables companies to reduce income taxes by 30% of the cost of a solar project," Fortune reports. "The credit has been a crucial tool that has boosted the amount of solar projects built nationwide. It has also been particularly useful in previous years when the cost of solar was far higher than it is right now."
Solar investors worried that the tax credit wouldn't get extended past this year. But late last year, the full credit was extended into 2019. That erases a major worry these companies can forget about for another few years…
Uncle Sam's cash-drop also helped kick start this beautiful First Solar Inc. (NASDAQ:FSLR) rally that continues to put money in your pocket: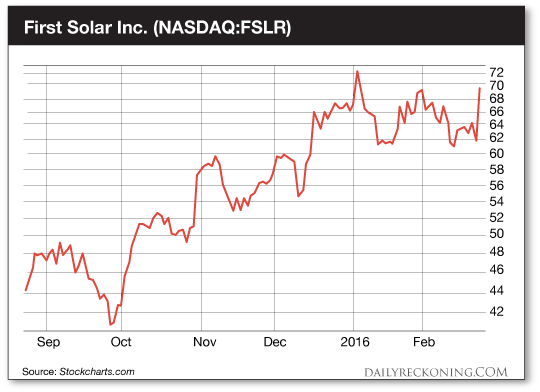 First Solar has held up nicely while the major averages swooned this year. This is one powerful uptrend that's beginning to kick into high gear. After bottoming out in late September, First Solar hasn't looked back once.
We picked up shares of FSLR at the very beginning of December. And when we did, I told you that First Solar is hands-down the best looking solar stock on the market. Now, even with its competition taking a nosedive, First Solar continues to shine.
After beating earnings expectations yesterday, the stock jumped more than 12%. If you snagged this trade when we first released it, you should be sitting on open gains of approximately 20%. Not bad for a solar stock that wasn't getting any attention from most investors.
Solar might not be on traders' minds right now. But it's certainly offering you a shot at huge gains. If you haven't jumped on this trade, yesterday's breakout gives you a great opportunity to ride the next wave higher.
Sincerely,
Greg Guenthner
for The Daily Reckoning
P.S. Make money in a falling market–sign up for my Rude Awakening e-letter, for FREE, right here. Stop missing out. Click here now to sign up for FREE.