Gold's About to Get Volatile – Hang on Tight!
Mark Cuban likes gold.
He also likes to run his mouth…
The Shark Tank billionaire and NBA owner recently said he's investing in gold. Just this week he told The Wall Street Journal that he's been buying "a lot" of GLD call options. That doesn't sound like investing to me. Scooping up SPDR Gold Trust (NYSE:GLD) calls is a trade. After all, he's leveraging his bets.
But Cuban isn't the only speculator jumping on gold. Right now, gold is enjoying its best start to the year since 1980. So it's no wonder investors are beginning to notice—especially with the major averages on the fritz.
Should you follow Cuban's lead into the gold? Or is this trade about to overheat and blow up in your face? Today, we're going to figure it out…
As I've explained before, gold is a fear trade. When investors are worried the world is ripping apart at the seams, they turn to gold. That's why the Midas Metal shined so brightly during the first decade of this young century. We had not one but two historic bubbles burst in tech stocks and real estate. So gold was the only safe harbor for a lot of folks.
The recent bull run in stocks made people forget about gold. But now that the market's off to such a rotten start this year and there's renewed talk of recession, guess what investors are looking to again?
That's right, gold.
But the gold trade is getting crowded right now. Really crowded. Look no further than GLD and you'll see just how popular gold has become once again…
"Net flows into [GLD] so far this month are on track to be the third biggest ever," The Wall Street Journal reports. "What has stood out for strategists who track options prices is the surge in the cost of call options betting on further gains in the ETF."
That's because everybody and their dead uncle is buying GLD right now. From big hedge funds to mainstream investors, investor and speculators alike can't get enough…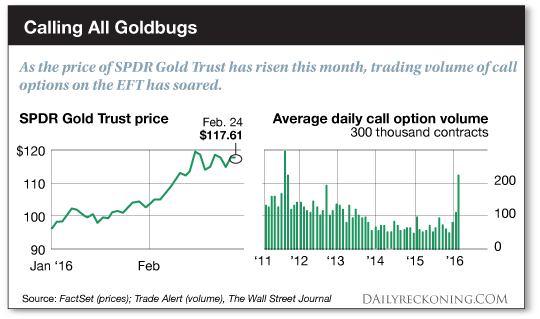 To be clear, I still think we'll see higher prices in everything gold-related in the coming weeks and months. But this monstrous shift in sentiment means the gains won't come easily.
It's already led to some serious volatility. And there will be plenty more.
Over just the past two weeks we've seen huge intraday swings in gold futures. On Wednesday, futures rallied to $1,255 an ounce before settling below $1,230 on the day. Same thing goes for the miners. One day, the Market Vectors Gold Miner ETF will jump 5%. The next day, it will have given those gains back and then some.
Even with a big, fat trend change like what we're seeing in gold, the gains aren't automatic. It's important to keep your head on a swivel and periodically take some cash off the table if we get overextended here.
Sincerely,
Greg Guenthner
for The Daily Reckoning
P.S. Make money in a falling market–sign up for my Rude Awakening e-letter, for FREE, right here. Stop missing out. Click here now to sign up for FREE.