Another Garbage Rally Could Put Double-Digit Gains in Your Pocket
Most investors can't adjust quickly enough to rapidly changing market conditions.
They're paralyzed as gold breaks out and Amazon breaks down. They see it happening. But they just can't wrap their brains around what's going on. Instead of taking action, they retreat to their favorite "safe stocks".
We all know the natural reaction to market turmoil is a flight to safety. We've seen plenty of this so far in 2016. That partly explains gold's rally. But it's not just gold. Low-risk consumer staples stock and utilities are both spanking the S&P 500 this year…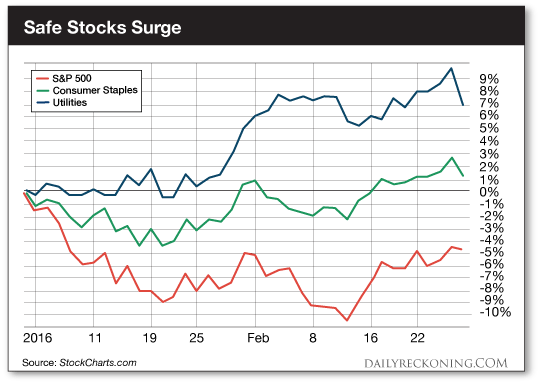 Safety stocks have had some time in the spotlight. But there's another side to the market madness…
Stocks have lurched back to life over the past two weeks. But they've been led by some of the most hated names on the market. Turns out, even the trashiest stocks on Wall Street have some fight left in them. That means huge, unexpected rallies in the most beaten-down names on the market.
Those left-for-dead trends are starting to percolate. And if you're quick enough, you can ride these comeback stocks to big gains.
I alerted you to these garbage stock rallies a couple weeks ago when they first popped up. Facebook—leader of the FANGs— was cratering under the pressure. In fact, no one wanted anything to do with last year's big winners. Junk stocks were blasting off the launch pad instead. Stock market pariahs like Twitter and Groupon were rallying. The heavily shorted losers were finally getting their day in the sun.
These comeback moves are custom built for short-term traders. That's why it pays to sift through the stocks that have been down on their luck for months. The ones showing signs of life could offer up the chance of fast double-digit gains in this market environment.
Your best hope at a trade will be among the names that once made folks a ton of dough—but have since died long, painful deaths. A new batch of these stocks is starting to wake up nearly every single day.
So what better industry to start with than 3D printers…
You might recall the 3D printing craze from a couple of years ago. If you've been around these parts long enough, you also know that we made more than a few profitable trades on these stocks, too.
2013 was a gold ribbon year for 3D printer stocks. There was nothing this new technology couldn't do. The go-to trade was 3D Systems Corp. (NYSE:DDD) – which returned an impressive 140% in 2013. But by January 2014 the hype got out of hand. In reality, all we were getting was plastic junk from the consumer models. Then red-hot trade started to fizzle. Now you can pick up DDD for about $10 a share.
But DDD might have finally found a tradable bottom. With its huge downtrend broken, DDD has already blasted off its January lows. Now, you have a shot at quick gains as this hated stock continues to plow higher.
Trade around these new market realities and you'll be way ahead of the rudderless herd.
Sincerely,
Greg Guenthner
for The Daily Reckoning
P.S. Make money in a falling market–sign up for my Rude Awakening e-letter, for FREE, right here. Stop missing out. Click here now to sign up for FREE.