Cash in on the Next "Anti-Amazon" Trade
2016 was supposed to be the year we celebrated a new retail utopia…
Anything you want at the touch of a button. Groceries delivered to you on-demand. Armies of drones dropping off packages on your stoop moments after you click "buy". A golden age of ultra-easy consumerism was upon us!
The media has been trumpeting the tune that big, bad Amazon is destroying brick and mortar retailers left and right. Malls are dead. Macy's is going the way of Sears and J.C. Penney. And there's nothing we can do to stop it…
But the retail revolution will have to wait, according to the all-knowing entity we call the stock market. Amazon shares have hit a serious rough patch this year. And all those busted-up retailers you hated back in 2015 are posting some impressive gains.
Take Walmart (NYSE:WMT). Traders left this stock for dead last year, insisting that Amazon would eat its lunch (breakfast and dinner too). But compare these two stocks' year-to-date performance and you'll see that the tables have turned in 2016…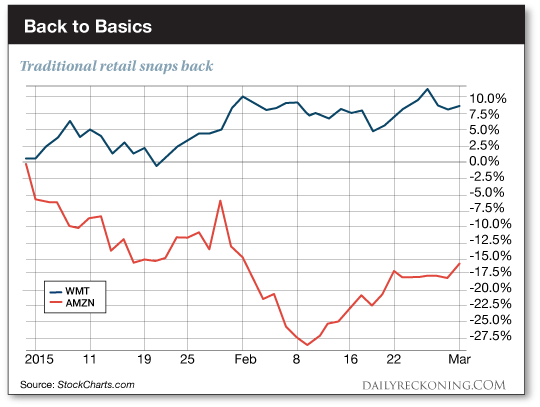 It's almost a mirror image.
It's true that Amazon knocked Walmart off its throne as King Retailer last year. Amazon's market-cap jumped above Walmart's for the first time ever last July when its shares rocketed higher on upbeat earnings. Most folks saw this as a major turning point in the retail wars. But that was last year.
Walmart isn't the only big retail name defying the odds— and Wall Street's expectations—this year. If you've been paying attention you're already familiar with our Macy's (NYSE:M) trade.
Macy's got torpedoed last year. After topping out above $70 in July shares sank well below $40. No surprise there. Even if you didn't know jack about Macy's, you know the market's crushed retail stocks over the past six months. Again, the "blame Amazon" narrative was in full blast when it came to Macy's horrible performance.
But 2016 has been a weird year. And one of the biggest surprises so far has been a sharp rebound in the brick and mortar retailers everyone supposedly hates. Walmart and Macy's aren't the only retail names snapping back to life this year.
The S&P Retail Index ETF (NYSE:XRT) hit the skids about midway through last year. But after hitting new lows in February, XRT has found new life. Now, it's broken out of the downtrend that has trapped the ETF for more than eight months…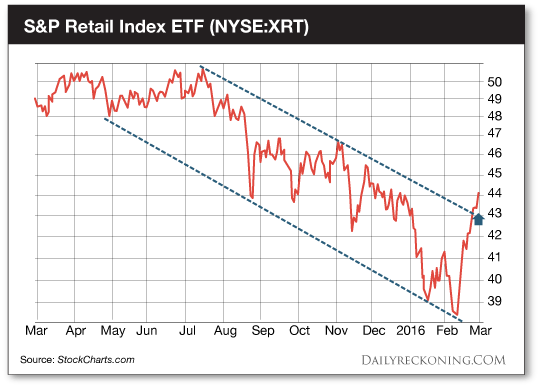 With a big move like this one, we should expect more retail breakouts to follow. Few things are as powerful as a hated stock's "disbelief rally" when it storms back from the dead. These are the types of trades that can net you double-digit gains in a matter of days. And right now, I'm seeing breakouts across the board when it comes to these forgotten brick and mortar retail plays…
Sincerely,
Greg Guenthner
for The Daily Reckoning
P.S. Bet on the bounce-sign up for my Rude Awakening e-letter, for FREE, right here. Stop missing out. Click here now to sign up for FREE.