Most Investors Are Completely Missing This "Snapback" Trade…
Some of the best trading opportunities we've seen in months keep popping up in commodities.
The great commodity supercyle is history. But wild bear market rallies can happen with little warning. These "supercycle snapbacks" are fast and messy. But they can line your pockets in no time flat.
I know it's hard to wrap your mind around a commodities trade when you're bombarded by constant shrieks about the possibility of global recession. It's still too early to make a final call on that one. But it's not too early to determine that certain commodities are flashing strong buy signals right now. You can debate why they are. But you can't deny what we're seeing in the markets right now…
We've already pointed out sharp rebounds in iron ore, precious metals and other left-for-dead commodities.
Now there's a fresh breakout sprouting wings right under everyone's nose. And if you're fast on the draw you'll find yourself sitting on double-digit gains in a matter of days…
To be clear: I'm not declaring an end to the vicious commodity bear that's mauled everything from crude to cotton. But these snapback trades have a way of keeping folks honest—even the short sellers. No long-term uptrend or downtrend ever moves in a continuous line. Show me one and I'll show you the tooth fairy.
That's where mean reversion comes into play. Whenever a stock or commodity get's a little too hot or too cold, you can bet the market will issue an abrupt reality check. Think of it like a pop quiz to see if you're doing your homework. Dr. Copper is administering the quiz today…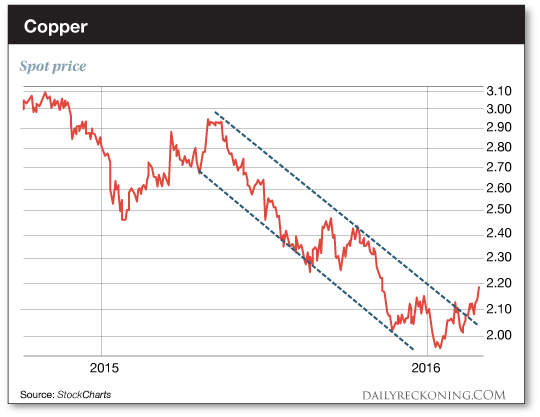 Dr. Copper (PhD, Economics)—which can supposedly predict the health of the world economy—jumped more than 2% to new 2016 highs yesterday.  While everyone's focused on the stock market's comeback move, an even bigger one is materializing in copper. After bottoming out in January, copper is now breaking out of a vicious downtrend.
It's tough to overstate just how big copper's breakout move is. Remember, investors have hammered this base metal to bits for five straight years. Copper spot price topped $4.50 in 2011. But by this January, it had dropped below $2 for the first time since 2009. With talks of a global recession dominating the financial news, copper has surely been last on the list of any "serious" investor. But yesterday's break to new 2016 highs shows us this could be the beginning of a monster run.
Copper is now up nearly 14% from its January lows. And the market's top copper miner stock is posting huge daily moves as copper extends its breakout. Freeport-McMoRan (NYSE:FCX) jumped more than 16% yesterday. This stock is now up 150% from its late January lows. You'll be hard pressed to find a more explosive move on the market these days…
We'll keep a close eye on aluminum, copper, and steel plays over the next few weeks. These are the sectors that could very well deliver the best trading gains we've seen all year…
Sincerely,
Greg Guenthner
for The Daily Reckoning
P.S. Make the fastest gains of 2016–sign up for my Rude Awakening e-letter, for FREE, right here. Stop missing out. Click here now to sign up for FREE.