The Great Squeeze of 2016 is On
Some of the most hated stocks on the market just dumped a barrel of rocket fuel on this comeback rally…
For the past few weeks it's been a bona fide trader's paradise. Investors are scraping the bottom of the stock market barrel and dredging up diamonds.
And the stock market's snapback rally off its February lows has created some killer opportunities for us, as you're about to see…
It's amazing. Different stocks are popping double-digits every single day.
Even the jankiest oil stocks looked good as gold as crude shot higher Friday. It looks like short sellers have pressed their luck a little too far once again. And they're getting cracked over the skull. Welcome to the Great Squeeze of 2016…
"Shares of Chesapeake Energy, EP Energy and Rexx Energy rocketed to their biggest ever weekly gains Friday, as an extended run-up in crude oil prices helped trigger a massive retreat by those who bet heavily against some downtrodden energy stocks," MarketWatch reports.
Chesapeake stock jumped almost 20% on Friday. That final push into the weekend left the troubled energy company with gains nearing 90% for the week. MarketWatch notes that short interest in Chesapeake rose to an eye-popping 235 million shares last month. That means about 40% of the stock's float was sold short.
To recap: Anyone who shorts a stock "borrows" that stock from a broker. And if the trade moves against them, they actually have to buy the stock to close out their position. That's why it's called a "short squeeze." They literally get squeezed out of the trade. If their losses mount quickly the selling is more ferocious.
What happens when all these short-sellers are forced to buy the stock? That drives its price even higher. The exact opposite of what the short-sellers wanted.
Want to see a short squeeze in action? Feast your eyes: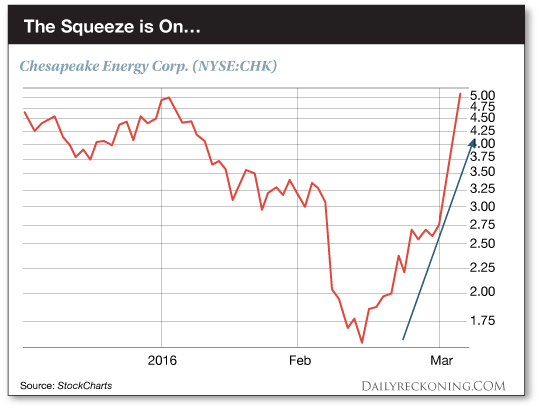 I warned you two weeks ago that the so-called "smart money" was backing up the truck to bet big against stocks—even in the midst of a massive rally. NYSE short interest was back near its historical record highs of 2008. That helped stretch the already-powerful market rally off the bottom…
"With the market rallying, we could be in for a massive short squeeze in the coming weeks," I wrote. "Once again, Wall Street doesn't have a clue. If they end up on the wrong side of the boat this time, a short covering rally could be the fuel the stock market needs to clear the air that has choked away the gains so far this year."
Now, the squeezy action has trickled down to energy names—arguably the most hated stocks on the market for the past year or more…
And there's a ton of rapid-fire gains heading our way as the Great Squeeze of 2016 plays out.
PRO readers booked gains of about 20% on Friday thanks to garbage stock extraordinaire 3D Systems Corp. (NYSE:DDD). Mining plays continue to perform well. Gold looks groovy. Base metals are finally popping. The gains are piling up.
We're going to squeeze profits out of this market like juice from an orange. Of course, this environment won't last forever. We have to stay on top of these squeezy stocks and grab onto these big moves while we can.
Stay tuned…
Sincerely,
Greg Guenthner
for The Daily Reckoning
P.S. If you want to cash in on the biggest profits this market has to offer, sign up for my Rude Awakening e-letter, for FREE, right here. Stop missing out. Click here now to sign up for FREE.