A Massive Rally is Brewing in this Despised Sector
Does the mere thought of buying biotech stock give you the willies?
Some of the market's ugliest, most hated stocks have lurched back to life over the past couple weeks.
These former dogs have helped traders like you net lightning-fast gains in a matter of days—hours in some cases.
But there's one comeback story that hadn't popped up on our screens yet. That's biotech. Is it time to buy again? You're about to find out…
We last waded through the biotech swamp back in January when the sector was down 33% from its 2015 highs. And it hadn't even bottomed yet…
I told you to throttle any hare-brained scheme to go bargain hunting in the sector. Reaching for that falling knife was a good way to lose a few fingers (maybe even your whole hand). Anyone who took a shot at these stocks over the past six months knows what I'm talking about.
The Biotech iShares started breaking down midway through 2015. That makes it one of the first major sectors to roll over as the market topped out. After the death cross grand slam that torpedoed the major averages in August, it became apparent that few biotechs would get off the mat.
2016 hasn't been much kinder. Biotechs had already dropped 28% on the year when the market bottomed on Feb. 11. They've attempted to rally. But they couldn't keep pace with the other busted sectors. Miners have rallied. Even the worst-of-the-worst energy stocks are perking up. Some are pushing new 2016 highs this week. That's right—energy stocks are positive on the year. But not the bios.
That all changed yesterday…
The biotech sector jumped more than 2% Monday after quietly inching higher for weeks. Here's how it all went down: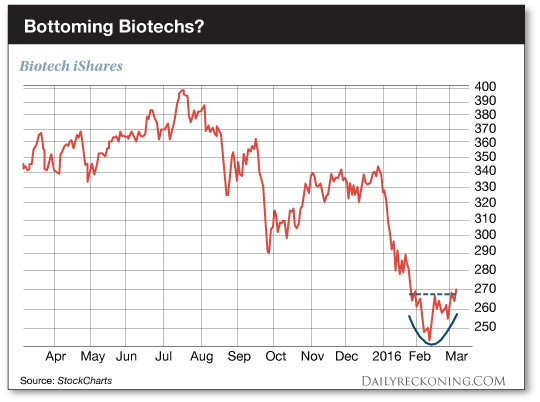 Biotech first got a nice little ramp off the February lows. But it wasn't as quick to jump to new two- and four-week highs as many other comeback sectors.
In fact, it's still stuck near its January lows. But yesterday's breakout could change all that. Many former biotech investors are still suffering from third-degree burns. There's no way they'd come within 3 miles of a biotech stock right now.
But I sense a wicked relief rally brewing. Now that the Biotech iShares have worked their way above the February lows, it's time for a snapback rally!
Yesterday, we showed you how some of the most hated stocks on the market have posted huge comeback rallies. While no one was looking, the most maligned names on the market started catching some serious bids…
Now that biotech's in the mix, we'll have plenty of new trading opportunities.
Are you in?
Sincerely,
Greg Guenthner
for The Daily Reckoning
P.S. You won't believe what trade is heating up again… be sure to sign up for my Rude Awakening e-letter, for FREE, right here. Stop missing out. Click here now to sign up for FREE.