This Crazy "Cheap Oil" Trade Shines While Crude's Comeback Fizzles
Don't call it a comeback just yet…
Crude rolled over as soon as the stock market opened for business yesterday. It plummeted nearly 4% by midday.
Base metals also took a beating. Copper dropped nearly 3%– while mining stocks coughed up all their recent gains.
See a pattern emerging?
The market's big winners from the past couple weeks are getting hit with some serious profit taking. Traders are getting out while the getting's good.
Small-caps fell more than twice as hard as the major averages before the day was done. Ditto for transportation stocks. And nearly every single energy stock in the S&P found itself deep in the red.
The garbage stocks and beaten-down sectors enjoyed a brilliant run over the past few weeks. Now they're orphans again as sellers toss them back onto the pile of unwanted toys.
But another sector is beginning to shine once again as these comeback kids get dumped. And it's no stranger to us.
I'm talking about solar.
You should know the drill by now: Crude tanks—but solar stocks rise. It doesn't make a whole lot of sense on the surface. But who said the market had to make sense? Just don't try and fight it.
But not all solar stocks are going along for the ride. There's a very public dustup between solar panel installer Vivint Solar (NYSE:VSLR) and the now-infamous folks at SunEdison (NYSE:SUNE). A $2.2 billion deal where SunEdison agreed to acquire Vivint fell through (SUNE abruptly walked) and lawyers are getting antsy. VSLR tanked 20% on the news. And SunEdison fights for its life as shares are once again below $2.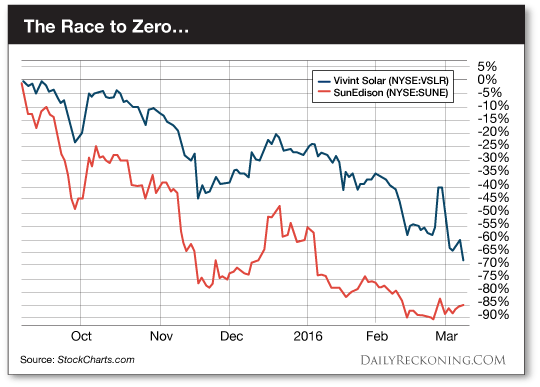 But there's also the brighter side of the solar story. The best companies in the sector are shaping up in a hurry.
Take SolarCity, for example. The company just won a contract from Whole Foods to retrofit up to 100 stores with rooftop solar. The solar systems are expected to make Whole Foods one of the top 25 U.S. solar customers, according to CNBC. The news has also helped kick start SolarCity's languishing stock.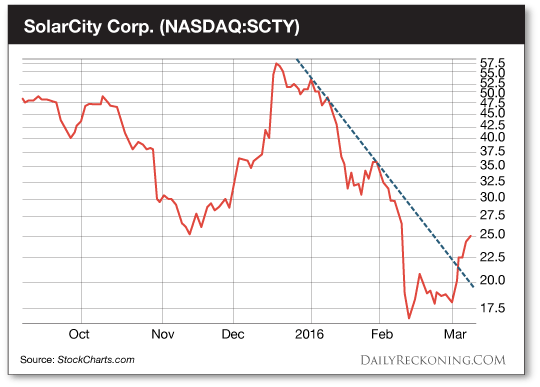 Solar City shares have been cut by more than half since late December. The company just couldn't catch a break. It completely fell apart when the market tanked. A big earnings miss earlier this year didn't help matters either.
But Solar City is finally starting to shape up. Shares are up more than 35% over the past five trading days. While the market's other comeback plays hold on for dear life, Solar City is starting to get interesting.
Pay no attention to oil. The market's doing what it wants to do. Don't fight it.
Sincerely,
Greg Guenthner
for The Daily Reckoning
P.S. Make money in a falling market–sign up for my Rude Awakening e-letter, for FREE, right here. Stop missing out. Click here now to sign up for FREE.