Stocks Celebrate Huge Milestone – May Be Their Last
You busted out the champagne yesterday and lit a cigar, right? After all, it was the bull market's birthday!
The financial press reminds us that the bull market turned seven yesterday. Stocks bottomed out all the way back in March 2009 after the housing meltdown and subsequent financial crisis. The rest is history. The S&P 500 has gained more than 200% in the seven years since.
What about the 19.9% drop in 2011? Doesn't count. Gotta hit 20% to officially gain bear status. So this bull's officially been running for seven straight years.
But as MarketWatch says, concerns about the global market have put its run in jeopardy.
You don't say?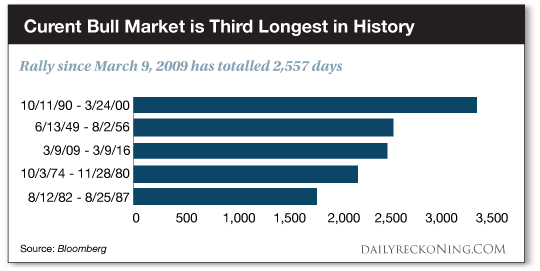 The third-oldest bull in history is getting a bit long in the tooth. And most folks don't think it's going to be around much longer.
"Although stocks may appear healthy again for now, this market looks to me more like the walking dead," Howard Gold says. "I don't believe we're on the cusp of a zombie apocalypse, but I do think a long, slow deadman's walk already may have begun."
This idea isn't new territory for you. We've been riding the bear market bandwagon since last summer when stocks first started to crack. And after a furious 3-week relief rally we're starting to see signs that the market is once again running out of gas.
Just look at the garbage stock rallies that are beginning to fall apart. These stocks were the best bottom-bouncers money could buy just a few weeks ago. Now they're giving it all back.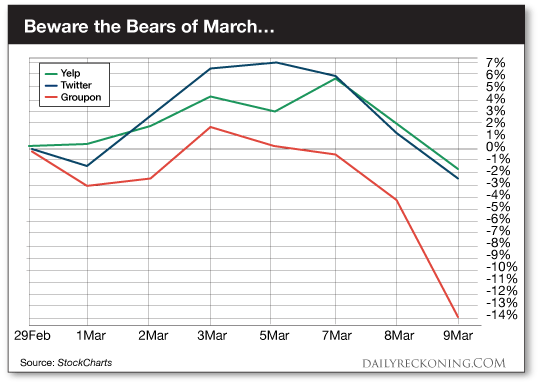 After enjoying a furious comeback in February, perennial loser Groupon got back to what it does best: finding lower prices. Shares slipped more than 10% yesterday. Groupon wasn't the only garbage tech sock taking a beating. Yelp's rally fizzled after an analyst downgrade. It dropped 3% on the day. Even Twitter's comeback move began to fall apart. The stock lost almost 4% by late afternoon…
Don't get me wrong— I'm glad the stock market's snapback rally off its February lows stuck around for a few weeks. It created some killer opportunities for us. Different stocks were popping double-digits every single day. Even energy stocks forced their way into the mix.
But the Great Squeeze of 2016 might already be running out of steam. So we're going to have to take some more cash off the table. Even if the major averages try to sneak higher in the coming weeks, many of the comeback names we've targeted (and profited from!) look like they're starting to roll over. Remember, we've taken profits on half of your Alcoa Inc. (NYSE:AA) position and 3D Systems Corp. (NYSE:DDD).  Today, you should take some more money off the table.
Depending on how the markets finish up the trading day, we might grab some additional miner gains tomorrow. Keep a close eye on your trades and your finger on the trigger…
Sincerely,
Greg Guenthner
for The Daily Reckoning
P.S. Make money in a falling market–sign up for my Rude Awakening e-letter, for FREE, right here. Stop missing out. Click here now to sign up for FREE.