WARNING: This Trade is Hazardous to Your Health
I notice you and your chubby friends have seriously cut back on the sugar water.
Soda consumption has plunged to levels last seen nearly 30 years ago. Since 1998, per capita consumption has declined from 53 gallons to 41 gallons, according to RBC Capital Markets.
More folks are finally realizing they probably shouldn't drink so many damn calories every single day. Americans might be getting fatter—but it looks like we're actually trying to do something about it…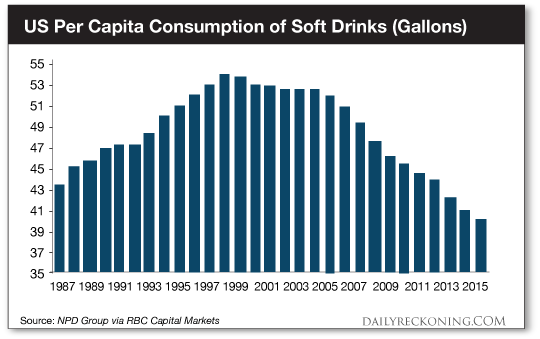 This must be another nail in Coca-Cola's coffin, right?
Wrong.
The sugar peddlers have wised up to our attempts to get fit. And they're diversifying beyond their standard offerings to combat this societal shift. Coca-Cola bought Vitaminwater back on 2007. Heck, Coke even has a brand of ultra-pasteurized milk now.
I would go as far as to say this sharp downturn in soda consumption matters very little to Coke. Why? Just take a look at its chart. Coca-Cola just closed at a new all-time high yesterday…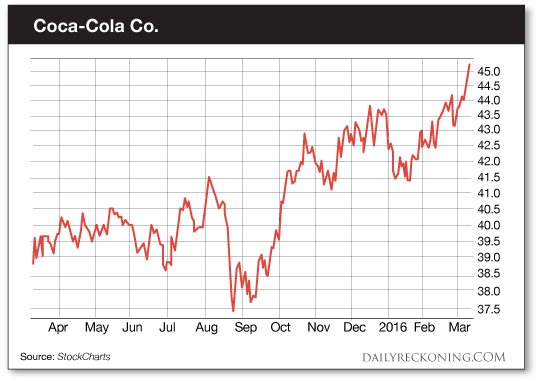 So much for betting against this soft drink giant.
There are plenty of health trends just like this one that are playing out in real life—but not in the markets. We've see huge spikes in organic, natural, and local food consumption over the past decade. But the big factory food companies like General Mills are also pushing new highs and posting record profits.
And don't get me started with cigarettes…
According to the CDC about 16% of Americans smoke cigarettes. More than 40% of adults were smokers back in the 60s. That's a huge cultural shift that probably won't let up anytime soon. In some major cities, it's even illegal to smoke on the sidewalk.
And to add insult to injury, some major chains such as CVS have actually halted the sale of smokes at all their locations. You can't even buy a pack of cigarettes at the drug store anymore.
Yet Big Tobacco stocks look strong.
What are the cigarette companies doing to juice their performance?
"As smoking rates fall, tobacco companies have managed to boost revenue by increasing cigarette prices. Altria, which controls more than 40% of the U.S. cigarette market and makes the top-selling brand Marlboro, has posted revenue gains in the last three quarters along with double-digit EPS gains," Investors Business Daily reported in 2015.
"But price increases can only go so far. So tobacco companies are looking at alternative products to attract millennials attuned to the negative effects of smoking, as well as current cigarette smokers seeking what's perceived as a healthier alternative."
Yep, you guessed it. Along with raising prices, big tobacco is getting into the vaping business. E-cigarettes are a small but growing phenomenon. And Big Tobacco is getting its foot in the door with its own brands of e-cigs.
So here we have a strong group of dividend-paying stocks that are thriving in a very unfriendly business environment. With the market in flux, investors are also scrambling for "safe" consumer staples stocks right now. And tobacco names are right at the top of their list.
So would you buy stock in a tobacco company?
All major cigarette stocks are smoking right now. Both Reynolds American (NYSE:RAI) and Philip Morris (NYSE:PM) are also surging higher. After cashing in on some comeback momentum plays lately, these steady stocks could offer up a smoother ride…
Sincerely,
Greg Guenthner
for The Daily Reckoning
P.S. Continue to profit when market trends and the real world collide–sign up for my Rude Awakening e-letter, for FREE, right here. Stop missing out. Click here now to sign up for FREE.