The Marijuana Miracle That Saved Biotech
Hear that?
That's the sound of exploding biotech stocks. As oil reverses lower to begin the new trading week, the hot money is flowing back into drug stocks. Literally…
A little company called GW Pharmaceuticals (NASDAQ:GWPH) just announced a new marijuana-based drug that successfully reduced seizures in children suffering from severe epilepsy. Now the company is taking its late-stage trial findings to the FDA for approval.
This was huge news for GW Pharma – or yuuuuge, as the Donald would say. Its shares had fallen more than 70% over the past eight months as investors shredded the entire biotech sector. But yesterday's news sent GWPH off to the races. Shares jumped more than 100% as the opening bell rang…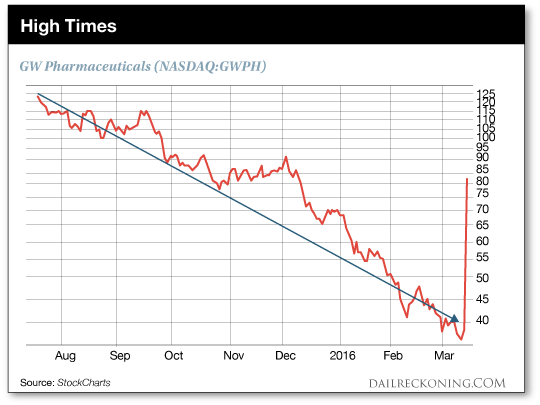 Does this indicate better days are ahead for biotech?
"It would seem like the black cloud that has been raining over the biotech sector as of late is starting to clear as GWPH has reported one of the first major successes of 2016," Piper Jaffray analyst Josh Schimmer noted.
Biotech's had a rough go of it recently. Anyone who took a shot at these stocks over the past six months knows what I'm talking about.
As I told you last week, the Biotech iShares started breaking down midway through 2015. It was one of the first major sectors to roll over as the market topped out. And up until last week, this year wasn't looking any better. The sector had already dropped 28% on the year when the market bottomed on Feb. 11.
Even as other beaten down sectors started to rally, biotech was left behind. That all started to change last week as the Biotech iShares ramped higher last Monday. But the little ramp off its February lows has been just that— little. We've seen no follow through in either the Biotech iShares or the S&P Biotech index.
But the indexes aren't telling the whole story. Individual biotechs are starting to make waves again while the averages spin their wheels. GW Pharma is just one of the names that popped yesterday. A quick scan of the market reveals several other biotech and drug companies posting some chart-busting gains.
Cerecor Inc. (NASDAQ:CERC) rocketed 35% on Monday. Axsome Therapeutics (NASDAQ:AXSM) blasted more than 25%. Flex Pharma (NASDAQ:FLKS) rose nearly 24%. These smaller biotechs are leaving their larger cousins in the dust. This is the wicked relief rally we talked about last week. And it's happening below the market's surface where few folks are looking.
These sorts of double-digit spikes could be the perfect medicine for your portfolio…
Sincerely,
Greg Guenthner
for The Daily Reckoning
P.S. Make money from this beaten down sector–sign up for my Rude Awakening e-letter, for FREE, right here. Stop missing out. Click here now to sign up for FREE.