The REAL Story You Missed Yesterday
The financial noise machine has drowned out the real story behind this week's biggest market moves…
The Fed decided to keep rates unchanged. Shocking! But while everyone else was parsing Fed statement language, a critical bounce in one commodity went largely unnoticed. More on this in just a second…
I told you yesterday that the market has remained in flux this week thanks to the Fed. Trading dried up just before 2 p.m. yesterday as everyone waited for the announcement. Of course, there was speculation floating around at to how Janet & Co. would react since the markets have been so weak.
"But ultimately, no one knows what will happen—or how the market will react," I wrote. "We'll just have to wait and see."
Now we know the Fed's getting a bit dovish and just two rate hikes are on the table in 2016.
Frankly, my dear Janet, I don't give a damn. I have bigger things to worry about. Like, ya know, major market trends.
Take oil for instance…
Crude gained nearly 6% when all was said and done on Wednesday. That's a pretty big one-day rip for black gold, especially when you consider how sluggish oil has been this week.
More importantly, crude looks like it's carving out a higher low. After wandering around just below $38 for the better part of the past two weeks, oil quickly blasted over $40 this morning. The last time was saw $40 was December, by the way…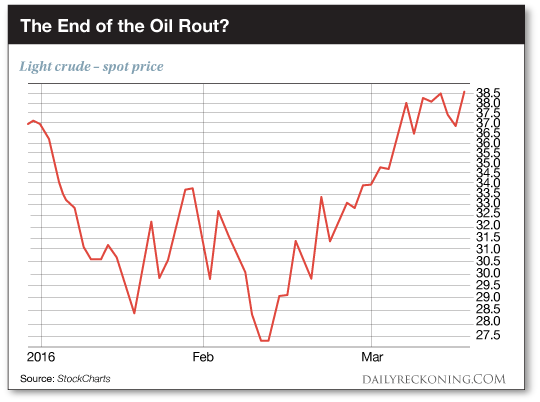 Here's something else no one is talking about for some reason: Energy stocks aren't looking half bad right now. While the S&P 500 is down about 1% year-to-date, the Energy Select SPDR (NYSE:XLE) is actually up nearly 4%.
If this new oil "floor" is the real deal, we could see these beaten-down energy names take on a bigger leadership role in the markets. Pipeline stocks were up big yesterday. So were refiners. Even independent oil & gas names were getting jiggy with higher prices. This is one group of stocks we'll want to watch closely heading into the end of the week…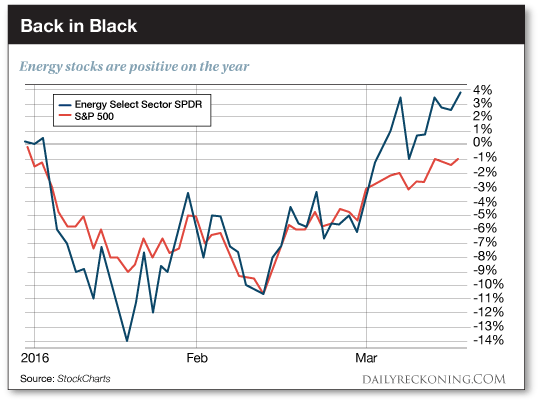 Will this move mark the long-term end of the oil rout? I'm not sure. But it does set us up for higher prices in the days ahead…
Oil wasn't the only big mover that triggered yesterday. The U.S. Dollar Index was slammed to new 2016 lows, while gold got up off the mat and jumped above $1,270.
Gold's resurgence and the dollar's weakness shouldn't surprise you. This is a trend that's been in place since early January. Gold's spot price is up more than 20% year-to-date as of this morning, while the Dollar Index is down nearly 3% over the same timeframe.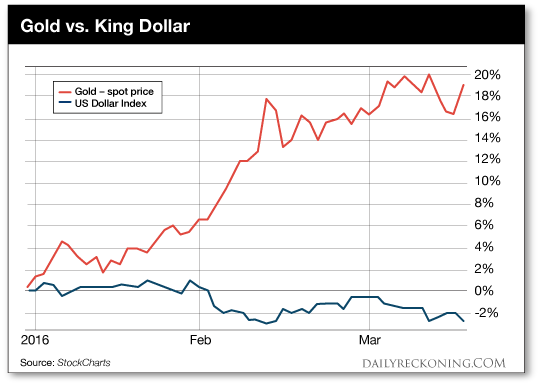 Don't get bogged down in the Fed hysteria. By tuning out the noise, we've been able to generate some amazing trades over the past several weeks. Now, your gold miners are breaking out to new 2016 highs.
Keep your head on straight and you'll continue to book gains this year—no matter what happens at the Fed…
Sincerely,
Greg Guenthner
for The Daily Reckoning
P.S. Make money in a falling market–sign up for my Rude Awakening e-letter, for FREE, right here. Stop missing out. Click here now to sign up for FREE.