Here's How to Cash in on the Great IPO Rebound
Today we're going unicorn hunting…
No, I'm not talking about slaughtering mythical beings and selling their horns on the black market like some poacher.
I'm talking about tech unicorns —those rare start-ups that have managed to juice their valuation to $1 billion or more through private investments.
And some of these unicorns are actually shaping up as fantastic short-term trading opportunities right now, as you're about to see…
Silicon Valley has racked up its share of unicorns. You might have even heard of a few. Snapchat ring a bell? What about Airbnb? And Uber? It's worth upwards of $50 billion.
Many of these aren't public companies. They bulked up on private venture capital. And the ones that jumped into the public markets suffered. Many jumped onto a major exchange just as investors were fleeing from speculative tech investments. With predictable results. But some of these names look like they've bottomed out. These are the ones we're looking at right now.
I've been beating the drum about crappy IPOs for months. But it looks like we have some legit turnaround stocks on our hands…
Payments startup Square (NYSE:SQ) is one of these unicorns that filed an IPO late last year. It raised about $400 million through its offering. Unfortunately, Square jumped into the deep end. And there wasn't enough water in the pool. The stock managed to float near its highs for most of December. But the January market swoon quickly dragged it under. Shares fell more than 40% in a matter of weeks.
But the market's resurgence has emboldened tech investors. After months of punishment stocks like Square are beginning to show signs of life…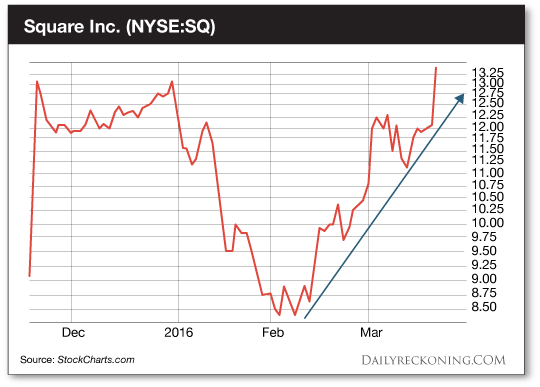 Square has clawed itself back from the brink after bottoming out near $8 in early February. Just yesterday, the stock jumped 11% to put it back near its highs.
Remember, the first rule of trading IPOs it to wait for the initial hype to fade before throwing any money at these wild stocks. The hype certainly faded for Square.
Even as a group, IPOs aren't looking so hot. The Renaissance IPO ETF is down more than 22% over the past 12 months. Even the sluggish S&P 500 is only down about 2% over the same timeframe…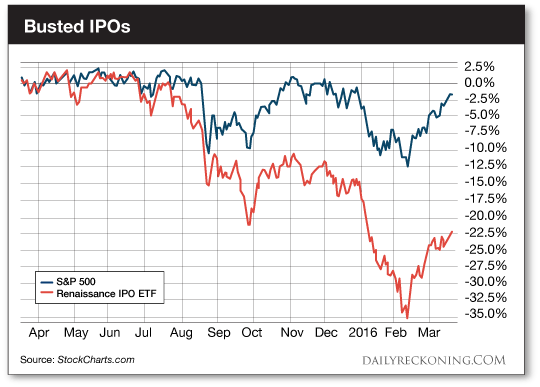 Back in November we noted that 40% of these IPOs since 2011 are now below their pre-IPO valuations. Box, Zynga, and Pure Storage were among the worst on Wall Street at the time. Now we're looking for tradable bottoms in names like these that can deliver quick double-digit gains.
Some of the worst hit recent tech IPOs are the one-trick ponies. These are the pure-play "gadget stocks". They focus on one particular niche for their products. God help you if you bought one of these stocks last year…
Take Fitbit (NYSE:FIT). Fitbit makes, well… Fitbits. For the uninitiated, these are those little vibrating bracelets people wear to tell them how many steps they've taken every day. There are a bunch of different Fitbit products at various price points that can help users track their health and fitness goals.
But Fitbit shares are starting to look bottom. And its not the only stock you should watch this week.
GoPro (NASDAQ:GPRO) is also one-trick pony, a la Fitbit. It makes cameras for the extreme sports crowd and other wannabe daredevils. Investors trashed this stock last year. By last year it was down 85% from its late 2014 highs. This stock also looks like it could break out of its funk…
A FIT or GPRO trade isn't a long-term proposition. What we have here are potential opportunities to play a bottom-bouncer for some sweet short-term gains.
I'll be keeping a sharp eye on these setups as the week progresses. Stay tuned…
Sincerely,
Greg Guenthner
for The Daily Reckoning
P.S. Make money in a falling market–sign up for my Rude Awakening e-letter, for FREE, right here. Stop missing out.  Click here now to sign up for FREE.