How to Profit from the Return of "Rich Man's Gold"
I've said it before and I'll say it again: some of the best trading opportunities we've seen in months keep popping up in commodities.
And there's a brand new setup on our radar this morning that could bring us some scorching short-term gains. It's a precious metal trade—one that most folks haven't even thought about for more than five years.
I'm talking about platinum…
When you think precious metals, I'm sure gold and silver are the first that come to mind. Platinum is the forgotten precious metal. But it's actually incredibly scarce compared to gold or silver. That's why it's often referred to as rich man's gold.
Experts say 20% of everything we use contains platinum or uses platinum in the production process. It even has industrial and cosmetic uses. And we can trade it for double-digit gains. In fact, platinum has the cleanest chart of all the precious metals right now…
This platinum breakout comes after years of pain. Unless you've been living under a rock for the past decade, you're aware of the commodity boom-bust cycle that ramped metals and other commodities to record highs—only to slam them back to earth.
Unlike gold, platinum has been the victim of much more extreme price swings. It dropped a mind- boggling 65% from its highs during the financial crisis. And platinum's spot price fell short of its 2008 highs as the commodity supercycle peaked in 2011.
But that's ancient history. Now there's a fresh breakout sprouting wings right under everyone's nose. And if you're fast on the draw you'll find yourself sitting on some nice gains…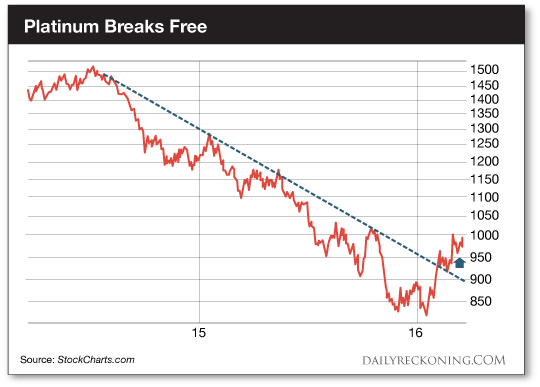 As you can see from the chart, platinum has broken free from a vicious downtrend. The sharp move we've seen off of the January lows could very well be the beginning of an even bigger rally.
To be clear: I'm not declaring an end to the vicious commodity bear that's mauled everything from crude to cotton. What we're seeing right now could be nothing more than a snapback trade that eventually fizzles. In the short run it doesn't matter. And that's what this is: a short-term trade.
And these mean reversion trades can be insanely profitable. Whenever a stock or commodity get's a little too hot or too cold, you can bet the market will issue an abrupt reality check. No one was bullish precious metals earlier this year. That simple fact helped set up the rally we're seeing today.
All precious metals are down about 1% or more this morning. This could be the perfect opportunity for us to get in and ride the next wave higher.
Platinum is as good as gold. Only better.
Sincerely,
Greg Guenthner
for The Daily Reckoning
P.S. Make money in a falling market–sign up for my Rude Awakening e-letter, for FREE, right here. Stop missing out.  Click here now to sign up for FREE.