What's Driving the Oil Rally?
Here comes $20 oil!
Just kidding…
The good folks at Barron's have outsmarted themselves once again—back in early February, the market mag declared that crude was headed for 20 bucks. Of course oil went on a major tear just after their prediction, topping out over $40. Nice job, fellas!
But does oil's huge rally mean it's time for us to bet on higher prices? Or is this rally doomed to fizzle? Today you're going to find out…
To be fair, the Barron's article accompanying the gaudy cover was a bit more subdued. It asserted that we were seeing the final leg down of the oil crash. It even went as far to say that oil investors could enjoy a sharp rebound during the second half of 2016 as producing nations finally cut supply.
But that doesn't change the embarrassing fact that Barron's "$20 Oil" cover coincided with the biggest oil rally in more than a year…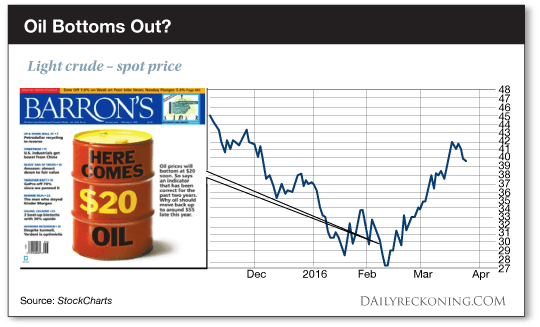 Oil's jumped more than 16% this month, briefly topping $40. And that's despite all the talk about a major supply glut…
"Oil futures are set to score their largest monthly gain in almost a year, even though U.S. crude supplies climbed in each of the last six weeks and major oil producers have yet for formalize a plan to stabilize output," MarketWatch reports.
So… Oil's jumped despite the fact that supplies have been increasing. What's the deal?
If oil stockpiles aren't luring new longs into crude, what is? It's the unwinding of all those short bets in the oil patch, that's what. Folks who have been betting against oil want out—and they want out now.
So who the heck has profited from the oil rally?
Most funds sure haven't…
"As crude has soared more than 50 percent since Feb. 11, the number of bets on increased prices has barely budged," Bloomberg reports. "Instead, the upward pressure on prices appears to have come from traders cashing out of bearish wagers at an unprecedented pace. The liquidation of short positions during the last seven weeks covered by data from the U.S. Commodity Futures Trading Commission was the largest on record."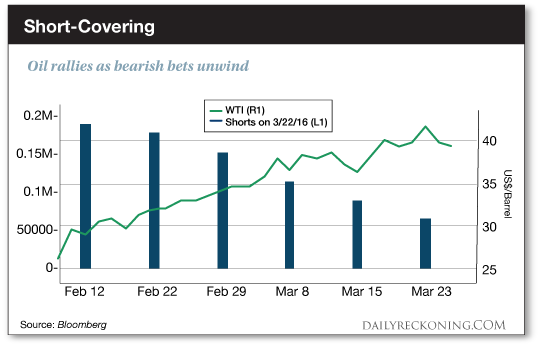 Once again, the market has worked its magic. Too many bearish bets left all the oil bears in a precarious position. The trade became too crowded—and the shorts pushed their luck. Now the market's punishing them. Is the world drowning in oil? Maybe, but the market doesn't give a damn. When one group leans too far over the edge, a powerful snapback usually isn't too far behind.
You're going to hear a lot of talk about a potential oil production freeze in the coming weeks. Most folks will gobble it up. Then there's the "summer driving season"—a theme that pops up every spring without fail. Forget about that claptrap. Suburban families carting the kids off to Disneyland won't be driving the price of oil this year.
But buying and selling pressure will. Oil's bottom-bouncing price cooled off right as it bumped into its declining 200-day moving average. But that's normal after such a powerful move.
There are some things we need to watch as we look for a potential round two of oil's rally. The first is tight coiling action between $38-$40. We want to see buyers swoop in every time oil dips (like what happened last Friday). Oil's down 2% in early trade today. That's not going to cut it. It's going to have to maintain these levels if we are to expect a positive resolution.
Next, we're going to need to see oil mount a serious assault on its 200-day moving average near $42.50. If it can't breach that mark we could see an even bigger dip before oil finds its footing again—perhaps to the low 30s.
Bottom line: we're going to need to see more evidence before we're ready to declare this new oil rally alive and well. It's been a hell of a bottom-bouncer so far. But if oil can't consolidate and clear resistance here, the second leg of the rally might be dead on arrival…
Sincerely,
Greg Guenthner
for The Daily Reckoning
P.S. Make money in ANY market–sign up for my Rude Awakening e-letter, for FREE, right here. Stop missing out. Click here now to sign up for FREE.