Here's How You Should Play the Fed's Latest Market Boost…
Stocks are limping into the last few trading days of the month…
The major indexes have settled down after a crazy down-and-up start to the year. Traders seem bored. And the recent pause has a lot of folks scratching their head about what's next…
"The Dow industrials had a trading range of 90.78 points from the low to high on Monday," MarketWatch reports. "That's the narrowest range since Christmas Eve 2015, when the index had a high/low range of 62.39 points. For the S&P 500, Monday marked the sixth day of a trading range of less than 20 points. That's the longest streak of its kind since a six-day run on Aug. 5, 2015."
Yesterday overall was about as exciting as standing in line at the DMV. Until Auntie Janet Yellen released the doves, helping fuel a rally into the closing bell…
"In her first comments since the Fed decided to hold rates steady two weeks ago, Yellen again sounded cautious tones about threats to the recovery of the world's biggest economy," Reuters reports, "appearing to push back on more hawkish recent comments from a handful of her colleagues."
You can pretty much rule out an April rate hike. The next chance will come in June. Then September. As of today, the futures markets are placing the chances of a September rate hike below 50%.
The broader market immediately reacted to Yellen's comments. Gold jumped a quick $15 on the prospects of a weaker dollar. Bank stocks—which have been thirsting for a hike—slipped even further into the red. Low interest rates hurt banks' profitability because they get nothing on their cash holdings.
But the real winner yesterday was the Nasdaq. And that's where we're fixing our sights right now. The tech-heavy index gained 80 points, good enough for a gain of nearly 1.7%. Compared to the Dow and the S&P 500, the Nazzy hit the stratosphere. And boy did it need the boost…
If you paid attention to the overall market rally off its February lows, you know the Nasdaq has lagged behind the other major averages. The S&P 500 and the Dow Jones Industrial Average cleared their respective 200-day moving averages a couple of weeks ago, while the Nasdaq Composite just couldn't make the jump.
But it's just one small step away from jumping the line after yesterday's performance: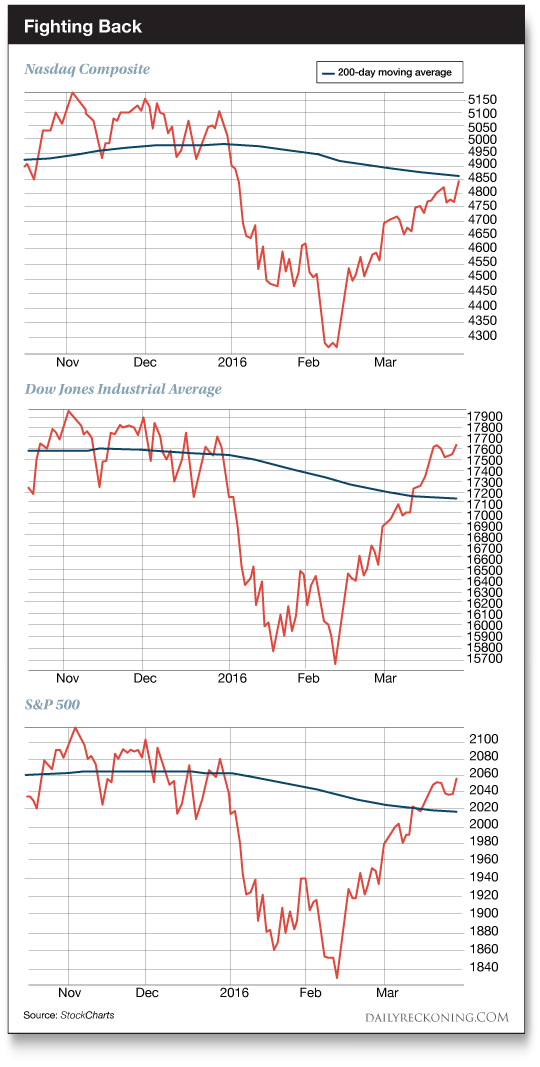 The bigger tech stocks are already on the move. In fact, the most recognizable Nasdaq names are getting pretty darn close to erasing their 2016 losses. Microsoft is just below its highs after a 2% rally yesterday. And Facebook shares actually posted all-time closing highs.
The Nasdaq may have lagged its peers as the market bottomed out in February and started rallying. But it looks ready to make up lost ground as we close out the trading month.
Futures are rallying this morning. If the market does continue to push higher, it will catch a lot of folks (and pros) completely off guard. That's a great recipe for big gains…
Sincerely,
Greg Guenthner
for The Daily Reckoning
P.S. Make money in ANY market–sign up for my Rude Awakening e-letter, for FREE, right here. Stop missing out. Click here now to sign up for FREE.