No One Believes in Gold. Here's Why It Will Keep Rising…
Gold's crashing to $500 an ounce. Dump your gold now!
April fool's!
No, gold's not going to $500 an ounce. It's probably in for quite a rally, in fact. The Midas metal just recorded its best quarter since 1986. Gold jumped double-digits during the first three months of the year for a 16%. And if everything continues to cooperate we could see more gains in the months ahead.
No one was paying attention when gold started ticking higher in January. Even those closest to the metal were shocked at how quickly it emerged from the dead.
"Absolutely no one saw this coming," a bullion dealer CEO told Bloomberg. "Forecasts made at the start of the year were out of date within weeks."
A false breakdown at the very end of 2015 is what caught everyone off guard. Gold was locked in a nasty downtrend. Another breakdown was just par for the course.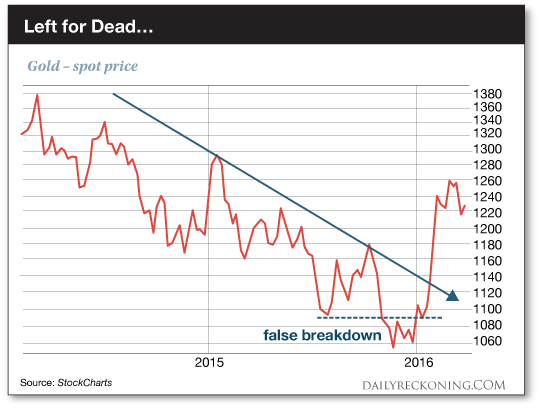 As most folks proficient in the "chart arts" know, from false moves come swift moves in the opposite direction. Once gold regained its footing to start the year it was off to the races. The disbelief rally had begun.
And it's still going strong…
Gold investors are breaking records left and right in 2016.
"Holdings in ETFs rose 21 percent to 1,761.3 metric tons in the period, more than in any quarter since the one ending March 2009," according to Bloomberg. "At the same time, trading volumes on the largest futures exchange, the Comex in New York, reached 14.1 million contracts, a record for a first quarter."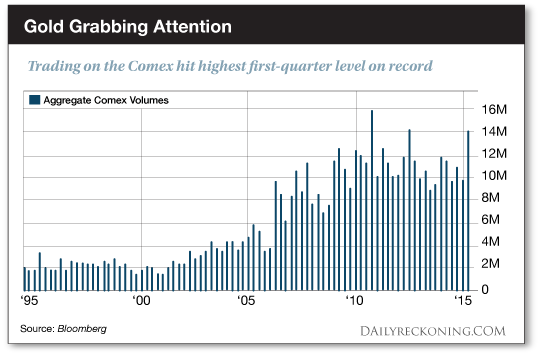 Many investors still think that the gold rally we've witnessed over the past three months will burn out rather than streak higher. But there's mounting evidence that this rally could have legs heading into the summer…
Our first clue is the U.S. dollar. The Greenback has taken a dive this year. Not only has that fueled the gold rally—it's also slammed the U.S. Dollar Index back toward early 2015 levels. If the dollar slips below its 2015 lows, it runs the risk of a much bigger drawdown. Naturally, that's bullish for the price of gold.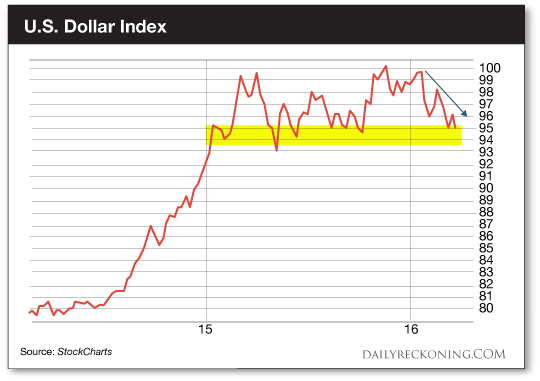 Next up we have our friends at the Federal Reserve. This whole "will they or won't they" rate drama is becoming absurd. Almost every week someone from the Fed comes out with a new story contradicting the old one.
Prepare your brain for the understatement of the century: It's clear that the Fed has no idea how to approach its promise to raise rates this year. You know that. But the rest of the investing world is now starting to catch on.
The drama is beginning to show itself in precious metals prices. We already saw gold leap higher earlier this week as the fed whistled its dovish tune. Now we're seeing the yellow metal slowly push higher as the end of the trading week quickly approaches…
While gold and miners continue to consolidate, we're beginning to see new trading setups emerge on the long side. You've had numerous chances to profit from gold's rise so far this year. More are on the way.
Gold's rise won't be picture-perfect. Expect wild swings and plenty of shakeouts. Comeback moves are never clean or easy. But they are powerful—and they can put a lot of money in your pocket in a very short amount of time.
That's no April fool's joke…
Sincerely,
Greg Guenthner
for The Daily Reckoning
P.S. Profit from gold's surprise rally–sign up for my Rude Awakening e-letter, for FREE, right here. Stop missing out. Click here now to sign up for FREE.