At Last—Biotechs Wake Up!
The biotech beast has finally awakened!
While every other sector and industry has enjoyed a nice pop since the market bottomed back in the winter, biotech stocks went into hibernation.
And today you're going to see how to play biotech's rapid turnaround for some tantalizing short-term gains…
I'll be the first to admit we haven't much luck with a biotech comeback over the past month.
I raved that a light at the end of the biotech bear market was finally in sight a few weeks ago. After slogging through months of dismal news, select biotech stocks were showing signs of life.
A company called GW Pharmaceuticals (NASDAQ:GWPH) had announced a new marijuana-based drug that successfully reduced seizures in children suffering from severe epilepsy. After shares dropped more than 70% over the past eight months, shares jumped more than 100% in one day.
And I told you investors' reaction to the news was a clue that biotech was turning the corner.
But I was premature.
The market jammed a stick in our spokes the very next day. And our new biotech trades went flying over the handlebars. Valeant Pharmaceuticals (NASDAQ:VRX)—the biggest train wreck in the sector—cut its 2016 revenue forecast and said a delay in filing its annual report could pose a debt default risk. That's all it took to derail biotech's fragile gains. Welcome to the world of trading, my friend.
But it looks like the budding biotech rally was more resilient than many would have imagined. And Friday's trading action made that case…
It was a fairly routine day for the major averages. But biotech stocks said the hell with Valeant and ignited a run in the healthcare sector…
"For the first time in awhile, healthcare is the day's strongest sector, and biotechs are the main reason why," master technician John Murphy wrote Friday on his Stockcharts.com blog.
The Biotech iShares have harnessed some momentum that had been so elusive so far this year. The ETF jumped above its 50-day moving averaged for the first time since January. And it's just a tick below critical breakout levels…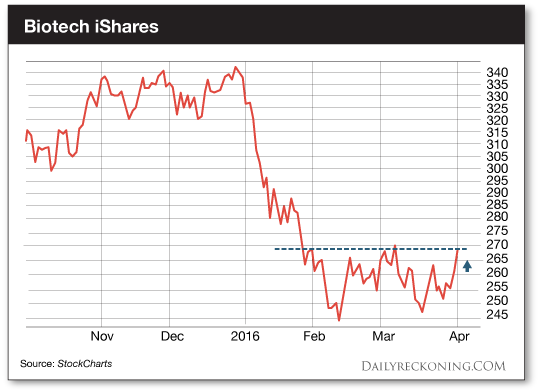 Bottom-bouncing moves like this can produce some incredible short-term trading opportunities. Some major biotech names jumped double-digits Friday. And this rally is just getting started as hot money rolls into these beaten down stocks. You need to realize that investor sentiment can shift on a dime.
Remember, no one wanted anything to do with biotechs just a few weeks ago. Now investors are fighting to get back into these stocks. That the fear of missing out in action. And that's a powerful emotion.
Our timing may have been off for our first attempt at biotech's snapback gains. But this time the rally appears to have legs…
Sincerely,
Greg Guenthner
for The Daily Reckoning
P.S. Profit from the biotech comeback–sign up for my Rude Awakening e-letter, for FREE, right here. Stop missing out. Click here now to sign up for FREE.