Donald Trump Lost Millions on Casinos. Here's How They'll Make You Money…
Are you a trader… or a gambler?
Gamblers trade out of emotion. They follow hot stock tips and their gut instincts, not facts and research. They may pay lip service to trading rules, but their emotions always get the better of them. And they hold onto losers far too long out of ego or hope.
When you gamble, you're bound to lose.
I've said it many times before—if you find yourself constantly dealing with knee-jerk, mistimed and unprofitable trades, you need to change your approach.
To become a consistently winning trader you must eliminate the gambler's mentality from your trading routine. A successful trader doesn't guess. He waits for his setup, assesses the possible outcomes and trades with a plan.
This plan should include best- and worst-case scenarios. These are your stop losses and profit targets. When a stock reaches your maximum acceptable loss you sell. When a profit target is reached on a short-term trade you sell. You don't get greedy and change your plan.
But enough with the lecture. Today I'm going to show you how you can actually profit from the gambler's mindset. In fact, we're going to profit from gamblers themselves…
I'm talking about casino stocks. And you know what they say about casinos. The house always wins.
Casinos make millions from gamblers. But casino stocks over the past couple of years have been losing bets for investors. The Market Vectors Gaming ETF peaked in early 2014. Then it crapped out for two straight years, robbing investors' chips for a solid 24 months.
But this year has been a different story. It looks like these orphaned stocks are finally reversing their fortunes.
Have a look for yourself: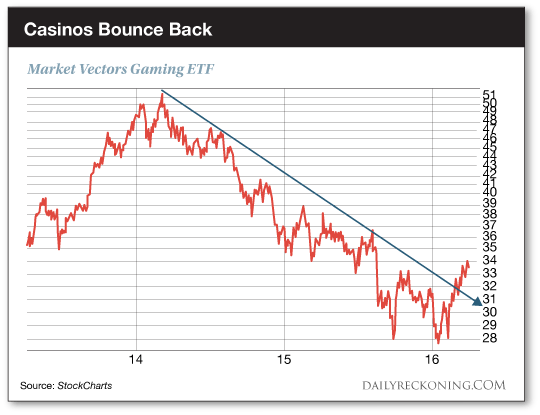 After hitting rock bottom in January, it looked like gaming stocks were coming up snake eyes once again. But the gambling gods had other plans. A March rally launched these stocks above a powerful resistance level that held them down for two years. That downtrend looks busted to us. Now it's time for the snapback rally.
A snapback rally happens when a market is extremely oversold. They're usually sharp, rapid and sometimes powerful bounces. Sometimes they're temporary and are followed by another leg lower. Other times, they're the start of a new long-term uptrend.
So what went wrong with casino stocks?
One of the main reasons investors have dumped casino stocks is fears that the Chinese economic slowdown would affect revenues from Macau—the world's biggest gambling destination.
While investors expected the worst, short sellers piled into any gaming company with Macau exposure. But now there appears to be a light at the end of the tunnel…
"We are at the beginning of the shift in the cycle from a recession-type economy to a bottoming out, and I think the economy and Macau's fortunes will turn around," Las Vegas Sands CEO Sheldon Adelson said earlier this year.
So far this casino mogul has been right on target.
Traders are beginning to notice the casino stocks. Right now we're seeing some attractive setups that are temping us to go "all in" on a new short-term trade.
Remember, we don't gamble here – we trade…
Sincerely,
Greg Guenthner
for The Daily Reckoning
P.S. Win double-digit gains by crushing the gamblers–sign up for my Rude Awakening e-letter, for FREE, right here. Stop missing out. Click here now to sign up for FREE.