Beat the Market – Trade Like a Cockroach
You're nothing but a cockroach…
When the coast is clear you skitter out from under the refrigerator looking for crumbs. You thrive in darkness. You're a survivor. Not even a nuclear holocaust could wipe you out…
A Morgan Stanley strategist published this colorful analogy earlier this week. He claims bizarre market conditions have slaughtered most investors. But the cockroaches have survived—even thrived—in this wacky market environment…
"Certainly the investors who have done well this year have been acting like cockroaches, reversing course when the winds changed direction in mid-February," he says. "The fundamentals haven't really changed that much, but prices certainly have."
And you wonder why I spend my days staring at charts…
When it comes to the stock market, there are few absolutes. But there is one thing you can always count on:
Only price pays.
Traders who understand this simple fact have profited. Everyone else? Yeah, exactly.
I told you after the market bottomed in February that most investors remained beaten and broken. It's not just the little guys either. The market's waylaying the Wall Street pros right now. Portfolios are busted. Nothing makes sense anymore…
When the big kids from Morgan Stanley are whining about the markets you can rest assured that most folks aren't enjoying their newly released quarterly statements…
That's because most investors just can't go where the market's taking them. They're trying to shove square pegs into round holes. But attempting to reason with the stock market is like trying to wiggle out of quicksand. The more you struggle, the faster you sink.
That's exactly what happened to the "smart money" as they backed up the truck and bet big against stocks more than six weeks ago. A huge rally ripped their faces off. Short squeezes popped left and right. Everyone was on the wrong side of the boat.
But not the cockroaches. These pure opportunists hopped on the rally—not knowing where it would take them.
What we're experiencing right now could be nothing but a temporary relief rally. Or it could be the first wave of a bigger move that takes us to new highs. We can argue which one of these outcomes will win out until we're blue in the face. But that won't put a single penny in your pocket…
It's important to remember that we're stuck in a market environment that's been trouble since late 2014. The major averages have gone nowhere for more than a year. That's some serious chop…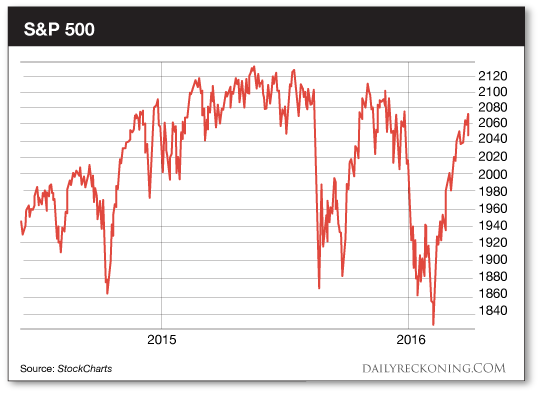 Greg Guenthner
for The Daily Reckoning
P.S. Make money in any market–sign up for my Rude Awakening e-letter, for FREE, right here. Stop missing out. Click here now to sign up for FREE.