Profit from this Retail Stock Market Casualty
Don't you just miss the glory days of the good ol' retail store?
Yeah, me neither.
Some of the market's major comeback trends are beginning to roll over. And no sector is rolling over so spectacularly as retail these days. Traditional retail—once on the comeback trail during 2016's bizarre first quarter—is going to the dogs once again.
And today you're going to learn the best way to cash in on retail's latest fall from grace. In fact, the business we're highlighting is largely responsible for retail's demise. More on that in just a second…
2016 has been a weird year. And one of the biggest surprises so far has been a sharp rebound in the brick and mortar retailers everyone supposedly hates. Walmart and Macy's are two prime examples. The House of Walton has enjoyed a nice bump this year despite coming off a brutal 2015 and relentless pressure from Amazon.
Let's face facts: Amazon ain't messing around. The king of E-tail is weaseling its way into every nook and cranny of every household in America. At this rate we'll all have tiny Amazon robots coursing through our frontal lobes, shipping our every whim and desire to us in minutes via drone.
It's a brave new world.
I reminded you more than six weeks ago that the S&P Retail Index ETF (NYSE:XRT) hit the skids about midway through last year. But after hitting new lows in February, XRT found renewed life. It broke out of the downtrend that trapped the ETF for more than eight months. Things were finally looking up.
But the good vibes didn't last. After briefly topping its sagging 200-day moving average, the S&P Retail Index ETF has fallen off a cliff. Now we're back below the long-term moving average and fading fast. Traders' eyes are wandering for more attractive setups…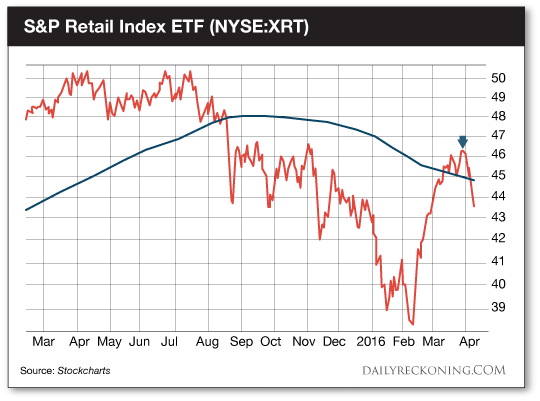 This sudden shift lower in retail has been accompanied by a lot of not-so-bullish news from some major names in the sector.
Gap Inc. (NYSE:GPS) led the way lower last week after a disappointing earnings announcement. But Friday's loser list was chock full of retailers…
"Concerns about high valuations amid a profit-margin squeeze were the main culprit behind Gap's slide, after the retailer late Thursday said same-store sales fell in March," MarketWatch reports. "Victoria's Secret owner L Brands (NYSE:LB) and Coach Inc. (NYSE:COH) were also among the biggest decliners."
Whatever magic these traditional retailers had earlier this year is gone. Folks who couldn't get enough Abercrombie, Gap, and Macy's stock during the first quarter are fleeing back into Amazon. Take a look for yourself: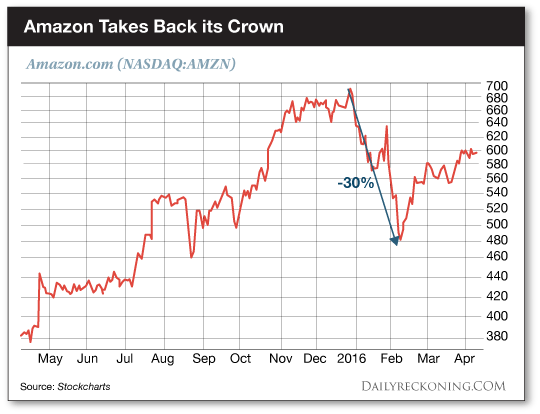 Amazon took a 30% hit to begin 2016. But the stock has rallied sharply since it bottomed out in February. While other retail names are breaking down, the king of E-tail has staged an impressive comeback rally. Now, it looks ready to break out once again.
This calls for a shift in strategy. You've had the opportunity to ride select brick and mortar retail stocks higher. Now it's time to cash out of these trades and hop back on Amazon.
We have to remain nimble in this shaky market environment. Flip-flop your retail plays to gain a leg up this month…
Sincerely,
Greg Guenthner
for The Daily Reckoning
P.S. Make money in a falling market–sign up for my Rude Awakening e-letter, for FREE, right here. Stop missing out. Click here now to sign up for FREE.