How the Play the End of the Biggest Oil Bear Market Ever
The worst oil bear market in history appears to be coming to a chaotic end…
Oil broke above $42 to new 2016 highs yesterday. That marked the third straight day of a rally that began around $37.
As of yesterday afternoon, oil's back above its 200-day moving average. And it's lifting the rest of the market higher too. The Dow was up about 165 points yesterday. Futures are pointing toward a higher open this morning.
So… is it time to place a few shekels on an oil play? You're about to find out.
It's been a long time since oil's had this much pep in its step. My friend Charlie Bilello from Pension Partners notes that yesterday's close above its 200-day moving average is crude's first since July 2014. That's oil marks oil's longest downtrend in history. And it's still nearly 60% off the highs it posted nearly two years ago.
Maybe oil's historic downtrend is finally through…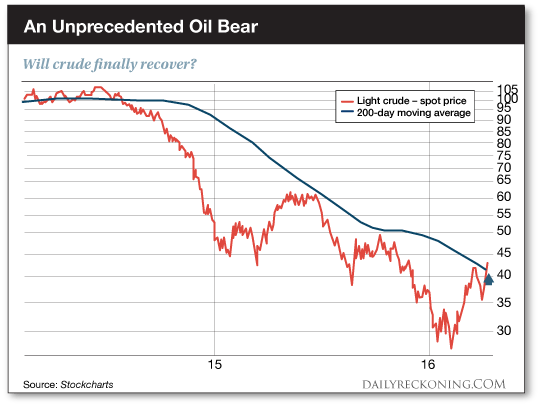 For most of this year, no matter how hard the market's tried to escape this year, stocks have been anchored to oil. A down day for oil has meant a down day for the major averages. And vice versa.
But last week we noted that stocks were attempting a daring escape from crude's clutches because stocks were sagging while crude was rallying. We even considered the possibility that the marriage between oil and stocks might be over.
But we warned that the market made no guarantees oil and stocks would go their separate ways anytime soon. Because so far this year, any divergence has been short lived.
And Tuesday's action suggests the marriage isn't over. Oil's still calling the shots and stocks are along for the ride. Traders rotated right back into oil names yesterday, sending the Energy Select Sector SPDR higher by nearly 3% on the day.
Of course, there's still plenty of news swirling around the oil patch. Several outlets have reported that Saudi Arabia and Russia have reached a consensus to freeze oil production once again. Who knows whether this will pan out…
James Williams, energy economist at WTRG Economics, told MarketWatch that oil prices are currently moving on headlines more than reality. In this manic market, that means we're seeing serious whipsaw moves—even after a breakout like we witnessed yesterday.
Just this morning, the Saudi oil minister downplayed the possible Russian deal. Oil's down more than 1.3% as a result— and well below $42. While the charts do look like oil has put in a significant bottom, we're still dealing with some serious headline risk and the potential for some wild chop in the oil patch.
I'm seeing some interesting setups in energy and materials stocks right now. But we want to be extra-careful putting on new trades in this environment. Commodities are flailing back and forth across the board right now. Precious metals are even giving back most of their gains from earlier this week thanks in part to a big oversold bounce from the U.S. Dollar this morning.
Is oil's historic slide really finished? It's possible. The road higher will be messy and difficult. But some quality trades should materialize soon enough…
Sincerely,
Greg Guenthner
for The Daily Reckoning
P.S. Can oil finally break free? Stay ahead of the of the story–sign up for my Rude Awakening e-letter, for FREE, right here. Stop missing out. Click here now to sign up for FREE.