It's Cheaper than Gold – With Way More Upside…
The major averages just posted their biggest one-day gain since March. The S&P 500's stellar two-day performance now has the big board up nearly 2% on the year.
Who would have seen that one coming back in February?
Not us, that's for sure. Luckily we follow the charts and not our guts—so we've had plenty of chances to book substantial gains since the market's February lows. And now the bulls are backing up the truck again.
The market's safe haven names such as utilities and consumer staples sagged yesterday. But traders happily gobbled up shares of everything from financials to GoPro. Yes, our old punching bag GoPro soared 20% after hiring away an Apple designer. Maybe America is great again after all…
But an even bigger trend was brewing as investors embarked on a different kind of buying spree. And while the gains we're seeing in the major averages are a welcome sight after our winter of discontent, you stand to make a lot more cash following this emerging trend.
I'm talking about metals…
Steel. Copper. Aluminum. We've played 'em all this year. And right now you can expect a major thrust higher for yet another shot at double-digit gains.
See, it's not just American markets that are rising right now. Chinese stocks are screaming higher thanks to some unexpected bullish data out of Asia. Most folks had already written China off—and sold out of their metals and materials stocks to avoid any blowback from a Chinese economic meltdown.
But now that China's back from the dead, these stocks are streaking higher…
"Steel stocks got a big boost in March from a jump in the price of iron ore (which is used to make steel)," John Murphy explains on his Stockcharts.com blog. "They're getting another big boost today on another jump in the price of iron ore in China and stronger economic data from that country."
I know it's difficult to wrap your mind around a commodities trade when you're bombarded by constant shrieks about the possibility of global recession. But for our trades, this type of analysis is useless. Certain commodities are flashing strong buy signals right now. You can debate why they are. But you can't deny what we're seeing in the markets right now…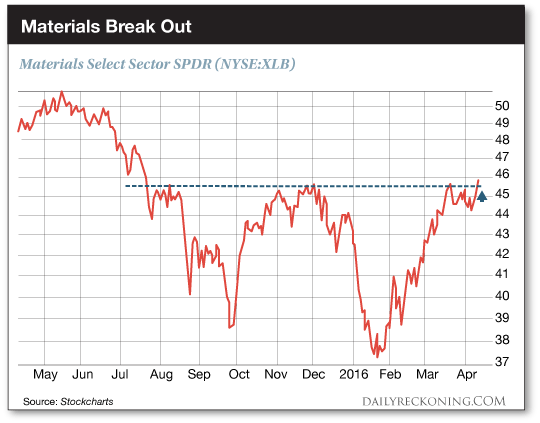 We've seen huge bottom-bounces from copper and aluminum stocks this year. Now it's steel's turn. This is the type of environment where we tend to see the most explosive breakouts. No one wanted anything to do with commodities a few short weeks ago. And when these stocks started rallying earlier this year, nobody believed the moves would stick.
That's the perfect recipe for a hot trade. This week's breakout could set the course for yet another eye-popping move…
Sincerely,
Greg Guenthner
for The Daily Reckoning
P.S. Continue to stay ahead of the metals market—sign up for my Rude Awakening e-letter, for FREE, right here. Stop missing out. Click here now to sign up for FREE.