This Social Media Reject is About to Ignite a Furious Rally
First Biotech. Then metals. Now this?
We've seen the hated biotechs rise from the ashes… metals and mining plays jump double-digits in a single session… and even some down-and-out IPOs flash green this week.
Just as a stock or sector seems to hit peak pessimism, buyers swoop in and send shares soaring. So we've spent some time this week sifting through the murkier waters of the market to dredge up our next double-digit gainer.
Well, now we've got another. We have one more snapback trade that we can play for some fast double-digit gains to close out the week.
And as it turns out, the stock was right under our nose…
The good folks at Bloomberg Business nailed the bottom on this one. In late March, the financial mag trotted out a less-than-flattering cover proclaiming a "#GrowthStall" at maligned social media outcast Twitter Inc. (NYSE:TWTR).
"Last year, amid a cratering stock price, slowing user growth, and a spate of executive departures, Twitter Inc.'s board decided to put co-founder Jack Dorsey in as chief executive," the Bloomberg piece begins. "Ten months later, all the same problems remain."
You're probably aware that Twitter shareholders have endured a rough ride lately. The stock was trading for $50 per share as recently as early 2015. Then reality set in. Twitter's ad business wasn't materializing as fast as investors would have liked. Its user base wasn't growing fast enough. Young people were jumping to other platforms like Snapchat…
When the dust cleared, Twitter shares were trading for as little as $13 while Facebook grabbed all the social media street cred. That's a 70% drop in a little over a year, by the way…
Aside from Facebook, most social media stocks hit the skids this year. The Global X Social Media Index Fund took a devastating 20% plunge during the first six weeks of 2016. The fund has since staged an impressive rally off its lows—giving us the green light to search for some hot snapback trades in the social media space.
That's where Twitter comes into play. No, it's not ripping to new year-to-date highs just yet. But if the market cooperated, traders could start piling into this forgotten stock very soon…
While Twitter stock is still stuck in the teens this week, it's beginning to show signs of life. In fact, we're seeing the beginnings of a rally that could quickly net you double-digit gains.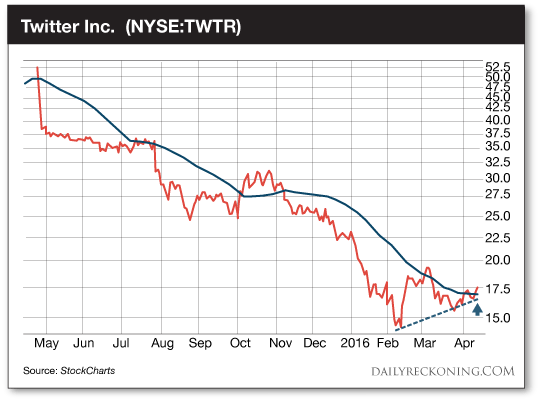 There are a couple of things I like about this chart. After a February flush and a false start, Twitter shares actually put in a higher low in late March. And for the past several weeks, the stock has continued to coil just below its falling 50-day moving average.
The real action began on Wednesday with a close above the 50-day—and some decent follow-through on Thursday. Now that Twitter has made a nice little base, it could easily rip to $20 in no time flat. That would put double-digit gains in your pocket. Not too shabby…
Will Jack and the new board members at Twitter get the company's act together?
Who knows? And more importantly—who cares! We're interested in a snapback trade here—not a social media investment. Investors have been fed up with this stock for months. No one has anything good to say about it.
That sounds like a great contrarian trade to me. It's time to get social…
Greg Guenthner
for The Daily Reckoning
P.S. Make money in ANY market—sign up for my Rude Awakening e-letter, for FREE, right here. Stop missing out. Click here now to sign up for FREE.