These 3 Critical Charts Are Flashing a Major Signal Right Now…
Ready for Dow 18,000?
That's the big number every financial news outlet is celebrating as we head into the new trading week. The big board hadn't topped this mark in almost a year—and the nightly news is popping the bubbly after yesterday's 100-point rally.
But we could care less about round-number madness.
The real story—as usual—is what's happening under the surface. As stocks get their sea legs back after a stormy winter, three critical charts are revealing quite a bit about how our trades will perform heading into the summer.
They're also telling us exactly where to put our money to work now that traders are willing to accept more risk.
Let's dive right in…
I told you last month the market's broken stepchildren were starting to wake up. The major averages had recovered after double-digit corrections. But those poor souls that had been mired in bear markets were actually leading the way higher…
First up is the small-cap Russell 2000. These forgotten small-caps are telling a big story about the market's recovery off its February lows. The Russell endured a true bear market over the past eight months—a 20% correction.
But the Russell is back in action. It just broke above its 200-day moving average. Yesterday marked its first move above this important level since last August.
Next up is the Dow Jones Transportation Average. The transportation average is yet another bear market bouncer. After leading the market lower in January the trannies are storming back.
Not even rock bottom oil prices could boost these losers back at the beginning of the year. The DJTA promptly crashed more than 12% during the first three weeks of 2016. Now it's up more than 6% on the year—compared to a gain of just 3% for their industrial cousins…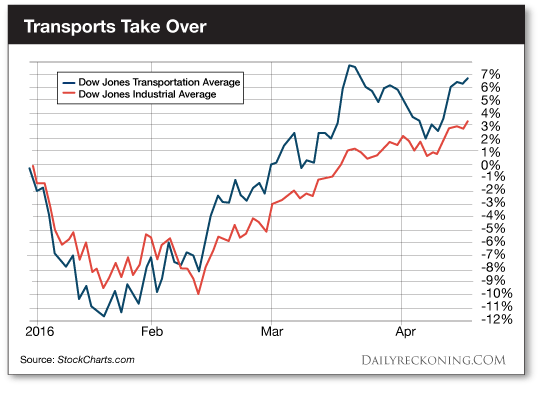 We've been riding this rally since February with our Southwest Airlines (NYSE:LUV) trade. You should be up more than 15% on this trade, which we made when most folks were running from stocks as fast as their legs could take them. Nice work!
Small-caps and transports aren't the only downtrodden stocks to get a second wind. Remember biotechs? These sickly stocks are finally getting healthy again. They're featured in our third and final chart.
It took some extra time for biotechs to join the party this year. While every other sector and industry enjoyed a nice pop since the market bottomed this winter, biotech stocks continued to lag. Until earlier this month, that is. Now these orphaned stocks are making up lost ground.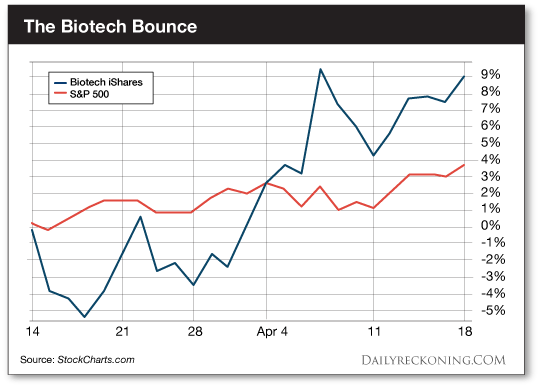 Over the past month, the Biotech iShares have screamed past the S&P 500. They're up more than 9%, compared to a 3.7% gain in the S&P. And after yesterday's big push higher, it looks like this run is only beginning.
You've been all over this biotech resurgence since the very beginning. Your Amgen Inc. (NASDAQ:AMGN) trade is up about 5% in just two weeks. Same goes for your medical device play Intuitive Surgical (NASDAQ:ISRG). The rising health care and biotech tide is steadily pushing these trades to 2016 highs.
You're well positioned to take full advantage of this week's rally as it continues to push higher. We'll be able to capitalize on some hot new trades as the week progresses…
Sincerely,
Greg Guenthner
for The Daily Reckoning
P.S. Stay ahead of the story the major averages aren't telling you—sign up for my Rude Awakening e-letter, for FREE, right here. Stop missing out. Click here now to sign up for FREE.