How "Poor Man's Gold" Could Make You Rich this Year
The year of the comeback is alive and well!
Does gold ring a bell? It's the best performing asset of 2016 after years of purgatory. In fact, all the metals have caught our attention this year. Steel, copper, aluminum and iron have all risen from their graves. And right now we're seeing a major thrust higher for yet another metal. It's also offering up a great shot at double-digit gains…
I'm talking about the poor man's precious metal. That's right – silver is ripping higher.
I haven't uttered a peep about silver this year. Until now, that is. Why? Because gold and other metals made the most dramatic moves.
Silver kept pace with gold for the first six weeks of the year. But in mid-February gold started to outshine its less lustrous cousin. We also had the opportunity to book gains on aluminum producers and miners as other precious metals surged.
Meanwhile, silver consolidated.
Now silver's breaking out and not looking back. And this week's breakout is opening up plenty of new silver opportunities for alert traders…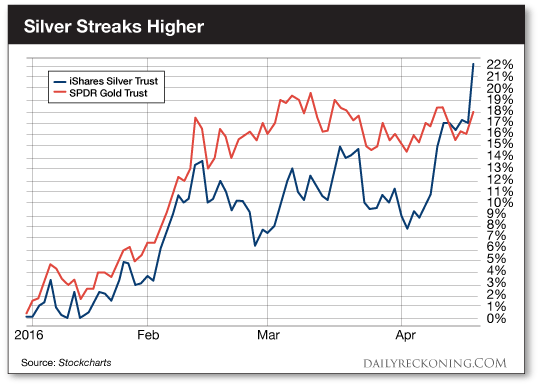 Gold gained more than 1.5% Tuesday. But silver was the shining star of the day. Spot silver briefly crested $17 for the first time since May 2015, finishing the day with a gain of almost 5%.
I told you last week that this is the type of environment where we tend to see the most explosive breakouts in commodity-related stocks. No one wanted anything to do with commodities a few short weeks ago. And when these stocks started rallying earlier this year, nobody believed the moves would stick.
That's the perfect recipe for a hot trade. Remember Freeport-McMoRan (NYSE:FCX)? After more than doubling earlier this year, FCX is back at it. The stock broke out once again and rallied 9% yesterday. It's been in your trading portfolio just four days and it has already delivered double-digit gains. And I think it has plenty of room to keep pushing higher as silver's move attracts momentum players back to mining stocks.
If you're eating at the commodity buffet this week, you should bring an extra plate for plenty of silver. You really can't go wrong with any of the silver miners out there when you're looking for a hot trade.
In late March, most folks though the precious metals rally was toast. Mining stocks appeared to have topped out earlier in the month. As far as many investors considered, the dead cat bounce was finished.
But as you can see, that's not the case at all. Most miners are blasting to new 2016 highs as I type. It's time to ride the next wave of the silver rally…
Sincerely,
Greg Guenthner
for The Daily Reckoning
P.S. Make money in ANY market—sign up for my Rude Awakening e-letter, for FREE, right here. Stop missing out. Click here now to sign up for FREE.