My 3 Favorite "Garbage Rallies" Could Net You Massive Profits
2016 started off miserably. But the market gods are now offering us happy trading profits.
We've enjoyed ideal trade setups in different sectors almost every week since early February. From mining and materials stocks to medical equipment and biotechs, we've had consistent shots at double-digit gains. Mix in a little volatility and we have a recipe for some spicy trades.
Even our favorite "garbage stocks" are getting in on the action. In fact, these powerful squeeze trades have been one of the driving forces behind the market's big move back into the green.
Early on we took to calling this move the Great Squeeze of 2016. Short sellers were taking it on the chin as they pressed their bets. To recap: anyone shorting a stock "borrows" that stock from a broker. And if the trade moves against them, they actually have to buy the stock to close out their position. That's why it's called a short squeeze. They literally get squeezed out of the trade. If their losses mount quickly the selling is more ferocious.
What happens when all these short-sellers are forced to buy the stock? That drives its price even higher. The exact opposite of what the short-sellers intended. As a result, every dismal stock the big money was betting against spiked higher. Even miserable stocks like Groupon.
The best thing about these rallies is that no one believed they would stick. Investors' indifference (or even fear) of these rallies simply added more fuel to the fire. That gives traders like us multiple opportunities to make money on the same stock as it breaks out, consolidates, then breaks out again…
But some of these bottom-bouncers don't even bother taking breaks.
Remember 3D Systems Corp. (NYSE:DDD)? After bottoming out earlier this year below $7, this 3D printing flagship has gone nowhere but up: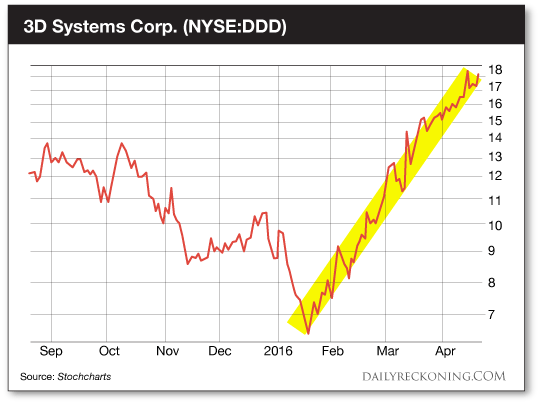 Looking back at our scorecard, we were able to capture 20% on a DDD trade in just one week. What a move!
Even though DDD didn't run out of steam, it's important to take cash off the table early and often with these snapback trades. You can always get back in and ride the next wave higher. But whether it's a fresh bottom-bouncing breakout or a hot stock coming out of consolidation, you'll find these are the most lucrative trades on the market right now.
DDD has been our favorite quick trade of 2016 (so far). And we're seeing a couple of other opportunities that could very well turn into your next double-digit gainer. While these setups aren't exactly like DDD in every way, they do share some important characteristics.
They're hated stocks coming out of long downtrends. And short sellers have significant stakes in these stocks.
The next chart you'll see belongs to a company you'll quickly recognize: Twitter (NYSE:TWTR).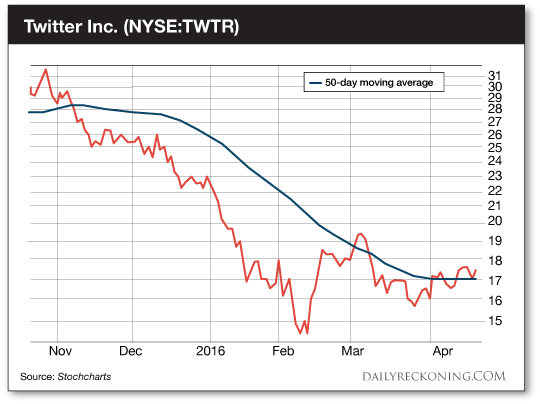 Twitter stock has gone nowhere but down for more than a year. The hype surrounding this social media innovator has completely dried up. No one likes the stock anymore. And any investor who bought in late 2013 right after its IPO has gotten crushed.
But the stock looks like it has put in a bottom—and could rip higher any moment now. Its 50-day moving average is quietly beginning to turn higher as the stock coils off its February lows. This could be the next monster snapback trade in the making.
Finally, we have a handful of independent energy companies rebounding now that oil is holding strong above $40. Some of the most battered and bruised oil and gas stocks are jumping double-digits in a single trading session.
Just look at Cabot Oil & Gas Corp. (NYSE:COG):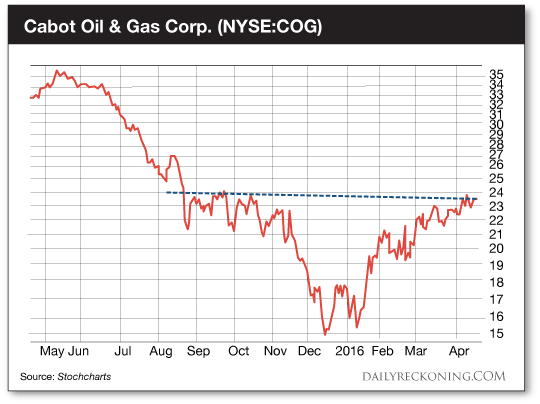 COG has formed a monster base over the past eight months. If it can squeak a little higher, this once forgotten oil name could turn into a massive trade heading into next week.
Keep a close eye on this one…
Sincerely,
Greg Guenthner
for The Daily Reckoning
P.S. Make money from hated stocks—sign up for my Rude Awakening e-letter, for FREE, right here. Stop missing out. Click here now to sign up for FREE.