You'll Never Guess Why This Bizarre "Safety Trade" is Working Right Now…
Biotech is the new safety trade!
Huh?
I know that sounds ridiculous. But it's true. Utilities are supposed to be the stodgy yet steady winners when the market gets a loopy. But that hasn't been the case this week.
Biotech's on the fast track right now. And today we're jumping on the biotech train for some quick double-digit gains. You'll see how in a second…
While the major averages were taking long walks off short piers Thursday, investors gobbled up biotech stocks. The Biotech iShares finished the day with a gain of nearly 3%. Meanwhile, the "safe" Utilities Select Sector SPDR crashed more than 2%, knifing through support.
Utilities had been this year's big winners. The sector was up nearly 17% through early April. Along with consumer staples, this was the place you wanted to be if you were looking to ride out the year's early storm. Not anymore.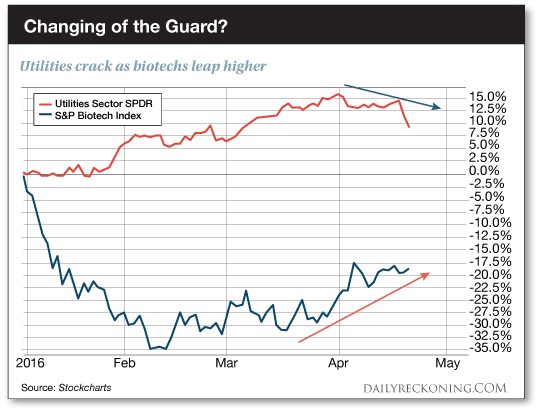 This rush into biotechs wasn't some organized coup. It's just the market's rabid sector rotation hard at work. Every sector seems to be getting its turn. Now biotech is ready to run.
Just don't tell your local market pundit. He's too busy trying to explain how the major averages rallied off their February lows while utilities, telecoms and staples led the way higher. By all traditional measures, you shouldn't buy into a rally led by these types of stocks. Good thing you ignored all of their mumbo jumbo and just followed the trends.
And this biotech rally is already producing lucrative trades. As of yesterday afternoon, more than 80 biotech stocks are green on the year. And a handful of these names are actually posting new 52-week highs. Not bad for a sector that's collectively down more than 18% on the year…
Over the next few days and weeks you're going to see all kinds of experts downplay this biotech rally. They're going to say that it's nothing more than a dead cat bounce. They'll also claim that biotech is due for another drop.
They might be right. But that doesn't matter to us. Every major rally has to begin somewhere. And the biotech surge will have a lot of work to do to graduate from relief rally to bull market. That said, it would be stupid of us not to jump on some of these red-hot trades.
The biotech comeback is already working miracles in our trading portfolio. Our Amgen Inc. (NASDAQ:AMGN) trade is up nearly 7% after holding for a little over two weeks. And our medical instruments play Intuitive Surgical (NASDAQ:ISRG) is up almost 6%.
Sincerely,
Greg Guenthner
for The Daily Reckoning
P.S. Make money from hated stocks—sign up for my Rude Awakening e-letter, for FREE, right here. Stop missing out. Click here now to sign up for FREE.