There's Only One Company That Can Save You from the Tech Wreck…
Another earnings season crash landing is dragging the Nasdaq lower this week.
Victims of the tech train wreck continue to pile up. But there is one company that's bucking the trend and blasting to new highs this week while investors are dragging its peers through the mud. More on this opportunity in just a minute…
Apple Inc. (NASDAQ:AAPL) shares plunged more than 6% Wednesday after reporting its first quarterly sales drop in 13 years. Apple's tumble once again dragged the Nasdaq Composite into the red—while the S&P 500 and Dow Jones Industrial Averages both finished the day with gains.
Cheerleading analysts were quick to point out that the iPhone 7 is just around the corner and that Apple would surely survive the setback. Just don't tell that to investors who collectively lost approximately $48 billion yesterday…
The list of earnings season horrors keeps getting longer. You already know that Google's parent company Alphabet missed analyst estimates for earnings and revenue for the first quarter. That sent shares down 5% on the day. Microsoft also whiffed on first quarter earnings earlier this week. Despite meeting expectations, investors dumped their shares. Poor guidance and slow revenue growth were to blame.
You can also add Twitter to the pile. Twitter is quickly reclaiming garbage stock status after a disastrous earnings report.
"Twitter said its revenue was at the low end of its forecast because brand marketers that advertise on the social network didn't ramp up spending as quickly as it expected," Business Insider reports. "And now, a number of analysts are concerned that competitors like Facebook and Snapchat will eat Twitter's lunch."
Too bad there's not much left in Twitter's lunchbox. The stock dropped nearly 17% yesterday. It's now just a breath above its all-time lows.
Now that Apple has sufficient company on the loser list, the Nasdaq Composite's lagging performance is beginning to stand out…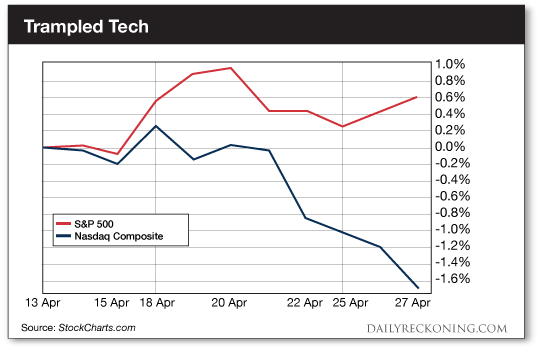 The Nasdaq Composite is don 1.7% over the past 10 trading days, compared to a gain of a little more than 0.6% for the S&P 500. That's not very bullish…
Thankfully, there is one stock rising from the ashes of the tech disaster. Facebook (NASDAQ:FB) reported earnings on Wednesday. And the social network king did not disappoint.
Facebook blew away expectations. In fact, CNBC notes that Facebook's earnings were an eye-popping 10% better than the highest estimate of 41 Wall Street analysts.
While Twitter circles the drain, Facebook is building a massive social media empire. The company is excelling in virtually every metric, from growing monthly average users to mobile advertising, which accounted for an enormous 82% of total ad revenue.
"All told, Facebook continues to dominate the social media space: Zuckerberg said people around the world spend on average more than 50 minutes per day on Facebook, Instagram and Messenger — and that's not even including WhatsApp," CNBC reports.
Facebook shares will open at all-time highs today. Even without factoring in today's gap higher, Facebook stock is up nearly 40% since the beginning of 2015. In comparison, Apple is down almost 10% over the same timeframe while the S&P 500 is up a little less than 2%.
Despite weakness in tech and the broad market, Facebook continues to shine. As Apple continues its slow transition from a growth stock to a stodgy Dow component, Facebook proves that it's ready to become the new king of growth. Even if the major averages continue to slide, Facebook is ready to power higher…
Sincerely,
Greg Guenthner
for The Daily Reckoning
P.S. Don't let earnings season get you down–sign up for my Rude Awakening e-letter, for FREE, right here. Stop missing out on the next big trend. Click here now to sign up for FREE.
Cover image: Bloomua / Shutterstock.com