Here's Why Oil Prices Could Keep Climbing
Stocks took a beating yesterday.
But crude continues to push to new 2016 highs, topping $48 for the first time in nearly five months.
Everyone in the oil patch must be dancing in the streets! The energy bulls are back!
Except that's not true…
No one is cheering on crude as it sneaks higher week after week.
"[Oil producers] increased their bets on falling prices to the highest level in 4 1/2 years as U.S. inventories of stored oil remained near an 87-year high, while a natural disaster in Canada and militant attacks in Africa curtailed output," Bloomberg reports. "Negative sentiment among the group expanded for a third consecutive week, the longest streak since February."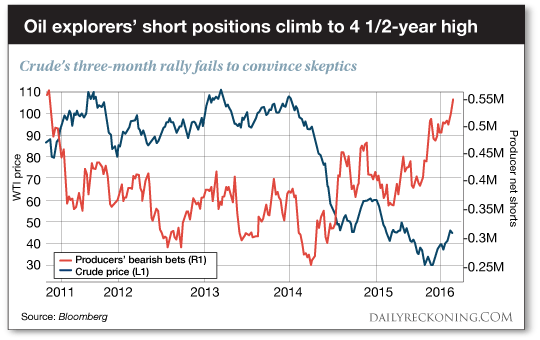 So we have oil shorts piling on after crude has endured a brutal 18-month bear market. No one – and I mean no one—believes oil can continue to march higher.
What gives?
Where were these oil bears when crude was trading north of $100 in early 2014? And more importantly—where are the oil bulls right now?
You have to look pretty hard to find them. But there are some oil analysts who are finally revising their guesses. A few days ago, the boys over at Goldman Sachs upped their oil price prediction to $45 for the second quarter—up from the $35 mark they tossed around back in March. But even this revised guess is essentially out-of-date. Crude crossed above this number just last week and is knocking on $50's door…
I'm not going to waste your time with an oil price prediction for next week, next month or next year. Instead, I'm going to predict that after yesterday's action, a lot of folks start to seriously reconsider their stance on oil.
One of the big market memes this year has centered on the relationship between oil and stocks. Everyone was worried that crude was dragging the market down as it crashed to its lows in February. And the consensus opinion when stocks started rallying was that they wouldn't get very far without oil hitching along on the ride.
We've noted before that oil and stocks have not been statistically correlated. But they were directionally correlated to some extent earlier this year. Not anymore. The major averages all dropped by more than 1% yesterday. But oil kept on humming along on its quest for $50…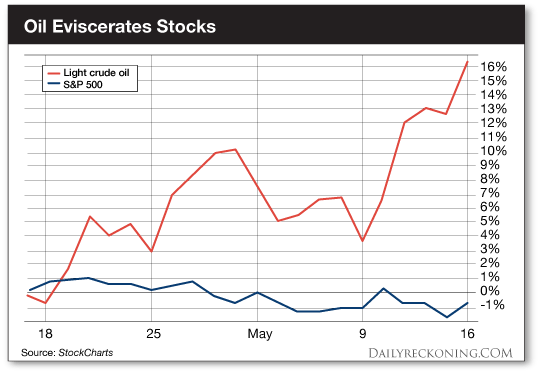 Over the past four weeks, crude is higher by more than 16%. The S&P 500 is down almost 1% over the same timeframe. For a couple of assets that most folks love to compare, they don't seem to want anything to do with each other…
As we head into the middle of the trading week, oil has some additional positive catalysts that could send it rushing toward $50 a barrel. Most folks are expecting crude inventories data to reveal a 3.5 million barrel drop. If we see a bigger drop, we could get a strong continuation of this week's rally.
There's not a lot to get excited about as far as market performance goes this week. But select energy stocks are flashing some welcome green on the screen while other sectors suffer.
Let's stick to the oil stocks that are breaking out. Now's your chance to hop on the energy sector as this disbelief rally continues to unfold…
Sincerely,
Greg Guenthner
for The Daily Reckoning
P.S. Make money no matter what the market is doing–sign up for my Rude Awakening e-letter, for FREE, right here. Stop missing out on the next big trend. Click here now to sign up for FREE.