The Market's Most Powerful Contrarian Trade Just Busted Loose!
Does it get any more bearish than that?
I posed this exact question during the first trading week of 2016.
Let me set the scene for you…
The market was reeling after a holiday rally failed to materialize. The major averages were falling apart. Emerging markets staggered. Stateside, some brave buyers barely prevented the major averages from suffering their worst start to a year since 1932. It was an ugly situation that was about to get a lot worse as a double-digit market correction loomed on the horizon.
But I wasn't talking about stocks. My mind was set on natural gas.
Natty had been absolutely trounced. At the time, it had sunk to prices not seen since you got your first dial-up internet connection. No one wanted anything to do with it.
But we figured natural gas had probably found rock bottom.
Why?
Over the past 20 years, natty staged rallies every time its spot price has sunk below $2. Even back in 2012 (when natural gas was still blowing off steam from its 2008 peak) natty ripped off a yearlong rally that sent the spot price from $2 to $6.
So when natty ripped off its lows in early January, we paid close attention. The oversold bounce began on Dec. 18. And before the New Year, natty found itself back above $2 once again.
But it wasn't long before Natty tortured us with one final push lower. As the market fell apart, Natty's rally fizzled. By early March, it was posting new lows. Our first long-term trade of the year looked dead in the water.
Not anymore…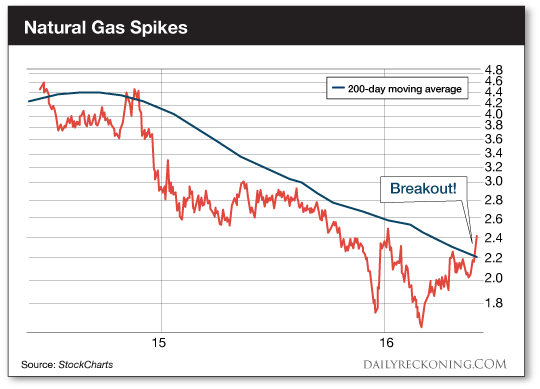 Natural gas is off to the races. Three big days higher has pushed Natty's spot price up nearly 5%. More importantly, it has broken above its 200-day moving average that has held is back since late 2014.
Not everyone is sold on this natural gas breakout (which is one of the reasons why I think it has plenty of room to run). In fact, most folks see no end in sight to the natty bear. You could spend all week reading reports that would make you think natural gas was going straight to zero. Just look at the rig count. While North American oil rigs have dropped off sharply over the past year, they remain north of their 2010 lows.
That's not the case with gas…
"Natural gas is an entirely different story," The Wall Street Journal reported earlier this year. "That market is so horribly glutted and cut off from the rest of the world that the gas-dedicated rig count now sits at the lowest recorded level going back to 1987, when Baker Hughes began compiling the figures."
Despite the big breakout earlier this week, we still see natural gas as a powerful contrarian trade.
And my warning from way back in January still stands: This is going to be a volatile play. By no means do I think natural gas is going to fall into line and offer up an orderly march higher. That just ain't gonna happen…
But if you have the stomach for a bumpy ride higher, you could be handsomely rewarded. Natural gas isn't going to streak back to prices we saw back in 2005 or 2008 anytime soon. But an extended bounce off the extreme lows we've experienced this year could offer up some serious gains…
Sincerely,
Greg Guenthner
for The Daily Reckoning
P.S. Make money in ANY market — sign up for my Rude Awakening e-letter, for FREE, right here. Stop missing out on the next big trend. Click here now to sign up for FREE.