The Surprising Secret that Will Double Your Money in Only 12 Months…
Want to double your money by this time next year? If you're serious about doing it, you have to change the entire way you think about investing. And today, you're going to learn how…
To double your money within a year, you probably think you have to buy beaten down stocks trading at a steep discount. Right? I mean, that's what everyone believes.
If that's what you're thinking, you're dead wrong. I'll show you what I mean in a minute…
So here's the big secret to doubling your money next year, and maybe every year afterwards:
You buy the best stock you can find that's already doubled.
I know this strategy sounds counterintuitive. Or maybe you think I'm crazy. That's fine. But hear me out… if you're looking for a stock that has the potential to rise 100% or more, you have to start by looking at one that's already proven it can double.
Too many traders (and investors, for that matter) are scared to buy stocks that have gone up a lot. And guess what? That's why most investors can't beat the market. Psychologically, we tell ourselves to look for beaten-down stocks. But most of the time, these rebounds fail miserably.
My guess is that you've been left at the altar more than once by a sure-thing stock that failed to rebound. We've all been there. Sure, you have some wins you can be proud of. And if you're lucky—or shrewd, or maybe both—you've held on to one or two names that have doubled your initial investment. These winners are rare… but they're not impossible.
And you know what? Finding those doubles can be a real challenge. Especially this year!
So far in 2016, just one S&P 500 component has doubled. That stock is Southwestern Energy Company (NYSE:SWN)—an independent oil & gas firm that has risen from the ashes after getting the tar kicked out of it for the better part of the oil crash. Across the broad market, fewer than 30 liquid stocks priced at $5 or more have doubled so far this year.
So the big question on your mind should be the following:
How the heck can I stack the deck so that I have the best chance at making sure one of those triple-digit gainers is in my portfolio?
And again, here's the answer: you buy the best stock that's already doubled.
Take Apple as an example. In 2005, Apple shares rose more than 130%. So if you avoided this stock in 2006—or sold it because it already doubled—you'd have missed out on gains of 160% over the next 24 months and 385% over the next 5 years. Oh, and if you bought Apple on Jan. 1, 2006 and held until the end of 2014, you'd have pocketed gains of more than 1,000%.
Not bad at all, right? That's the power of what I call the "double-double" in action.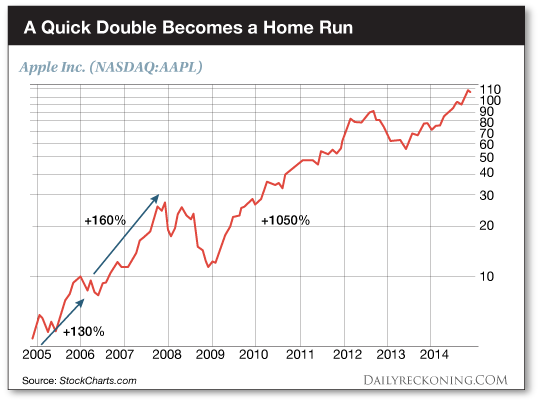 So, if you want to break your cycle of sub-par returns in 2016, just make a list of the best performing names on the market this year and pick a few favorites…
What are those? Oh, you're feeling too lazy to do it? I anticipated that—so I'll be making a list for you tomorrow. Stay tuned…
Sincerely,
Greg Guenthner
for The Daily Reckoning
P.S. Make money in ANY market — sign up for my Rude Awakening e-letter, for FREE, right here. Stop missing out on the next big trend. Click here now to sign up for FREE.