These Stocks are Ready to Double… Again!
Yesterday, we discussed one of the most important forgotten laws of the stock market: stocks that have already doubled are more likely double again.
And with the major averages surging this week, it's time to turn our attention to breakouts. In a breakout market, you want to pounce on these potential "double-double" stocks as they harness the momentum surge from a deluge of eager buyers.
If you're serious about attempting to double your money with a single long-term trade, pay close attention. But be warned: What you're about to learn isn't your grandfather's value strategy…
I know it's not easy buying stocks that have already generated triple-digit returns. Pulling the trigger on a stock that's jumped from $10 to $20 in less than 12 months can feel like a suicide mission.
It's not.
Here's the truth: You're far better off harnessing the momentum of a trending stock than scouring the sewers for a "cheap" play that could take years to even find a floor—if it ever does.
It's no secret that the stock market hasn't been very cooperative this year. But the prospects of the major averages are improving by the hour. Riskier assets are catching a bid. Breakouts are starting to stick. It's time for you to take action…
You already know that only one S&P 500 component has doubled so far this year. That stock is Southwestern Energy Company (NYSE:SWN). The fact that an energy company holds this lonely post is somewhat surprising. While many energy companies have lifted off their lows, it's important to remember that they took a beating during the first six weeks of the year. Crude didn't bottom out until February—and many of these stocks are still fighting off their January losses.
On the other hand, mining stocks are having a field day thanks to a little calendar kismet. Precious metals stormed out of the gate to start the year and haven't looked back. So as we build our list of doubling stocks I promised I'd share, you'll immediately notice that most are in the mining biz.
Another standout sector is biotech. These two sectors don't have much in common—except that both have endured painful bear markets as recently as 2015. But that's not stopping them from dominating our "double-double" list.
Check it out: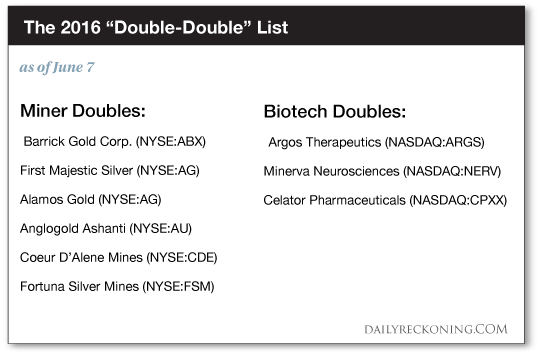 Obviously, all of these stocks aren't buys right now. As we mentioned yesterday, very few liquid stocks priced at $5 or more have doubled so far this year. It's an elite club. But it's one we want to watch carefully. Because the miners are showing us more than a handful of doubles—and we already have three liquid biotech doubles on the books—we'll continue to scour these two sectors for new trade setups.
With precious metals pulling back again this morning, I suspect we will see some new trades emerge from this space very soon. Remember, mining stocks held up well when gold futures dropped almost $100 last month. If they can ride out a few more bumps, another powerful leg higher could materialize.
And if the next leg is as powerful as the first, that means these stocks that doubled could very well double again before the end of the year…
Sincerely,
Greg Guenthner
for The Daily Reckoning
P.S. Bag a "double-double" in a breakout market — sign up for my Rude Awakening e-letter, for FREE, right here. Stop missing out on the next big trend. Click here now to sign up for FREE.