Here's What Rich People Wear to the Donut Shop (and Why it Could Mint You Huge Gains)
I was standing in line at a fancy local donut shop the other day when I noticed something strange…
Everyone in front of me was dressed like they just came from a crossfit class. Guys were wearing hooded sweatshirts, gym shorts and sandals with socks. Women were decked out in tight yoga pants and colorful tank tops.
It was 9 a.m. and no one had broken a sweat. And not one customer patiently waiting for a Boston cream was about to head down the street to the organic market to grab some granola for breakfast.
But hey, it's 2016. You don't have to actually go to the gym. If you're wearing the gear, you'll fit right in with everyone else. That's the athleisure trend in action. And right now, you could bank some serious gains as athleisure wear continues to dominate retail.
The numbers speak for themselves. The sports apparel and footwear market has grown 42% since 2009 to $270 billion, according to Morgan Stanley. Analysts are guessing it will grow another 30% before the decade is over.
It's also becoming apparent that workplace dress codes are getting more lenient every day. When was the last time you saw someone wear a tie to the office? Before you know it, we'll all be wearing form-fitting muscle shirts and sweatbands in our cubicles…
That brings us to the high-priced luxury athleisure brand that started it all: Lululemon Athletica (NASDAQ:LULU).
Lululemon is a company that's done everything wrong—yet gotten the trends so right that investors can't help but scoop up shares.
Every six months, the folks at Lululemon find themselves in some sort of public relations debacle. Remember the yoga pants scandal? The company's unlikable CEO said fat people shouldn't wear Lululemon tights when confronted with complaints that some customers found the fabric too transparent. And just this year, a Twitter jab at Beyoncé's new athleisure line turned into an all-out brawl with the singer's fans…
Right now, we're seeing what could be an important turning point for Lululemon. As the big athletic clothing brands like Nike get sucked into the retail vortex, LULU's strategy is helping bolster its shares in what has been a difficult year for retail brands…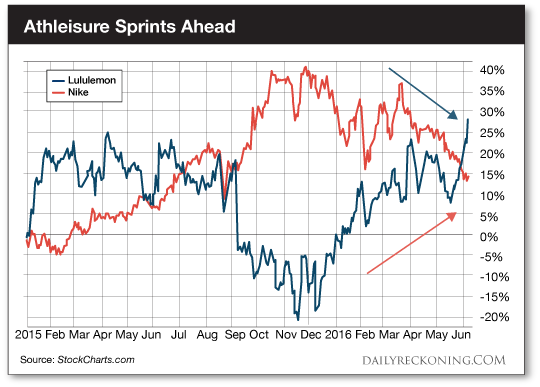 After dominating the retail market late last year, Nike shares are slipping as LULU surges.
Lackluster earnings can't even derail the Lululemon freight train. Management announced yesterday that the company missed earnings estimates. The company has even resorted to marking down items to tackle inventory issues.
Do investors care? Not one bit. Lululemon is opening new stores and growing its revenue stream. The stock rocked higher by almost 5% yesterday. That puts LULU shares at new 52-week highs.
Lululemon stock is breaking out in a big way. So ignore the haters, grab a bag of jelly donuts and binge watch Game of Thrones in a $150 pair of tights. And grab shares of LULU while you're at it…
If you lived through the 1970s, you might be a tad suspicious of any trend connected to the word leisure. You might even have some plaid polyester collecting dust in your spare closet. And while I can't guarantee that the athleisure fad will last forever, I don't think it's going anywhere anytime soon. Fads like this are usually great investments that can reward you for many years to come…
Sincerely,
Greg Guenthner
for The Daily Reckoning
P.S. Profit from the biggest clothing trend of the decade — sign up for my Rude Awakening e-letter, for FREE, right here. Stop missing out on the next big trend. Click here now to sign up for FREE.