This $26 Billion Deal Killed Social Media Stocks. Here's How to Play it…
Microsoft just fired off a $26 billion rocket that has all but destroyed the ailing social media space…
The software giant plunked down $26.2 billion to acquire LinkedIn, the annoyingly pushy "professional network" where work acquaintances beg you to add them to your list of business buddies.
The biggest social media purchase in recent memory set off a shockwave of excitement across the markets. Sympathy moves from other troubled social media stocks like Twitter and Yelp sprung up. The bag holders are already licking their chops over more buyouts that might never materialize. If LinkedIn can get bought out for a premium of nearly 50%, then they also have a chance, right?
Let's take a moment to cut through the hype…
Not too long ago, you had to cough up nearly $260 to buy one share of LinkedIn. Shares were below $135 as of Friday afternoon. Microsoft's generous buyout still leaves LinkedIn negative on the year thanks to its February earnings miss meltdown.
"[The] LinkedIn sale is not liberation," Wall Street Journal Financial editor Dennis Berman tweeted. "It is capitulation."
The deal also failed to impress Microsoft shareholders. By midday, the stock was down 3%, placing shares dangerously close to their February lows.
Other reactions across the internet were equally skeptical of the deal and what it means for the industry…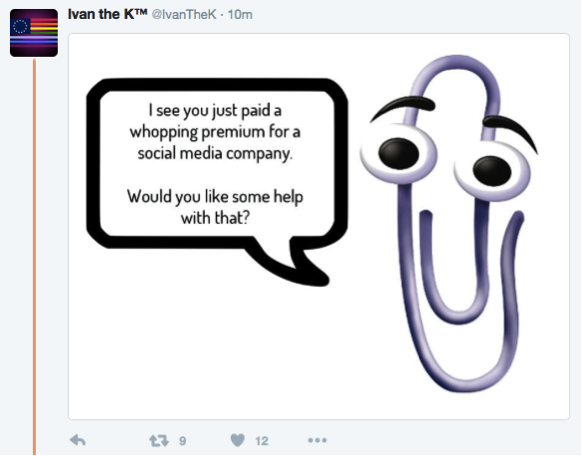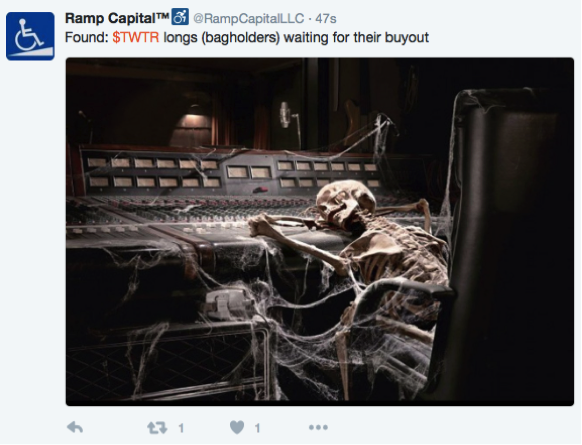 As ridiculous as this LinkedIn debacle has been, it didn't stop the rumor mill from temporarily spiking the shares of almost every social media stock on the market yesterday morning. Twitter shares jumped off their lows as some pundits guessed they're actively looking for a suitor (perhaps Google?). Even bottom feeder Yelp spiked in premarket trade before getting smashed back into the red by the end of the trading day…
Of course, these are social media's stepchildren. They're desperate for table scraps to help prop up their flagging share prices.
What about the Big Kahuna?
I'm talking about Facebook…
Unlike LinkedIn and Twitter, Facebook shares have steadily trended higher as the company continues to blow away expectations. Back in April, Facebook reported earnings that were an eye-popping 10% better than the highest estimate of 41 Wall Street analysts.
While Twitter circles the drain, Facebook is building a massive social media empire. The company is excelling in virtually every metric, from growing monthly average users to mobile advertising, which accounted for an enormous 82% of the company's total ad revenue last quarter.
But that's not stopping folks from hopping off the Facebook bandwagon right now. Famed short seller Andrew Left from Citron Research announced yesterday that he's betting against social media's golden child. Left claims Facebook is losing relevance and it will not be a $330 behemoth 12 months from now…
Left's timing is no coincidence. Thanks to the Microsoft deal and continued market weakness, Facebook shares look vulnerable. One more push and this stock could fall right off a cliff…
The slip below $116 kills all of Facebook's recent momentum. After yesterday's break, we can expect lower prices in the weeks to come.
While I still think Facebook is a great company, the Microsoft deal and Left's announcement have quickly soured investors to anything related to social media. We don't want to stick around for what might happen next…
Sincerely,
Greg Guenthner
for The Daily Reckoning
P.S. Make money in ANY market — sign up for my Rude Awakening e-letter, for FREE, right here. Stop missing out on the next big trend. Click here now to sign up for FREE.