The Fed Just Sparked Gold's Next Leg Higher
It's the least shocking news you'll hear all week: the Fed has decided to keep rates unchanged!
We were treated to the usual mumbo jumbo at yesterday's presser. Household spending is up. But job gains have been soft. Auntie Janet even said next week's Brexit vote was one of the reasons the Fed decided to back off…
To be clear, no one was expecting a rate hike this month. Fed fund futures gave 2% odds of a hike yesterday before the announcement. Anyone shocked that the Fed held steady needs his head examined.
But that didn't stop the markets from pitching a temper tantrum…
Stocks fell off a cliff with about a half an hour to go in yesterday's session. The S&P 500 finished lower for the fifth day in a row.
It was a different story for gold and other precious metals. Gold futures have steadily advanced since yesterday afternoon. As of early this morning, an ounce of the yellow metal is trading at $1,308. That's a two-year high.
Gold's run higher this month has caught many investors with their pants down. I told you yesterday that no one's paying attention to gold anymore. Everyone's freaked out about the Brexit vote and falling stock prices…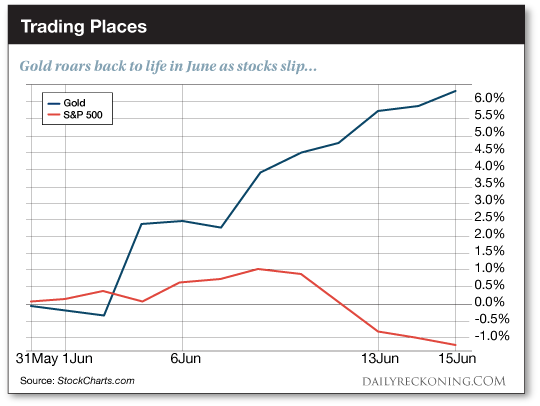 As of yesterday's close, gold futures are higher by more than 6% so far in June. The S&P 500 has dropped more than 1.2% over that same timeframe.
Now that a June hike is off the table, everyone is speculating about whether the Fed will ditch the doves and hike next month. There are some analysts and economists out there that seem to think a July hike is possible if we get a strong jobs rebound,some positive revisions to the abysmal May report, or if the Britain votes to stay in the EU.
Should you listen to these guesses?
Of course not.
The market's the boss. And right now, Mr. Market ain't buying a July hike. As of yesterday, Fed fund futures forecast the odds of a July rate hike at less than 25%…
The stars are aligning in favor of another gold rally. With new two-year highs on the books this morning, we're ready to blast higher heading into the summer…
Sincerely,
Greg Guenthner
for The Daily Reckoning
P.S. Make money in a falling market — sign up for my Rude Awakening e-letter, for FREE, right here. Stop missing out on the next big trend. Click here now to sign up for FREE.